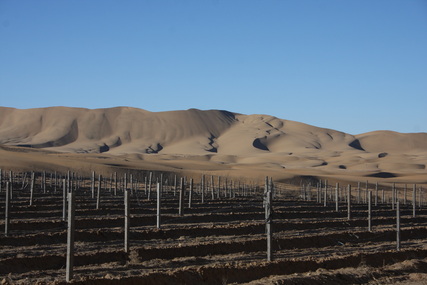 I woke up this morning and went through my normal routine: shower, brush teeth, get dressed, put on coat and walk out door. Only this morning when I walked outside I thought maybe my house had decided to relocate itself to the tundra while I slept. The temperature gauge on my car read 2º. Soon the radio was telling me that with the wind chill it was -20º! Ask any winemaker about how to grow healthy grapevines and they will tell you that the best grapes come from vines that struggle. I have even witnessed this myself. In general, I have found that wine is better when it comes from vines that had a rough life. Much like people, grapevines mature best when they are exposed to suffering. But can there be too much suffering? And, is it okay to sacrifice quality in order to be able to produce grapes at all? Okay, so why am I talking about cold weather and suffering grapevines? My brother's recent trip to Inner Mongolia has prompted me to ask just that.
My brother goes to China several times a year for work (architecture, not wine) and his most recent trip took him to Inner Mongolia, specifically the town of Wuhai. While the Chinese have for many years now been increasing their consumption of wine, I've only recently been hearing more and more about the increase of Chinese wine production. In fact, I just read an article about Domaines Barons de Rothschild (Lafites) buying vineyards in the Shandong province. They planted these vineyards in 2011 so the first vintage should be harvested in the next year or two. My brother was able to visit a few wineries and drove through many vineyards. In telling me about the vineyards, he described how vineyard managers bury the vines during the coldest months of the year to protect them from the extreme weather of the region. I've never heard of this myself, so my initial reaction was simply shock. I had trouble understanding what this meant so, naturally, I had to do a little more research, all the time wondering, how far should we go to produce wine in regions unsuitable to grape growing?
Inner Mongolia has extremely long, extremely cold winters. This causes a bit of a problem for grapevines, which don't like long periods of cold weather. The temperature in this region of China has reached record lows of -40º F and can remain below freezing for as much as five months of the year. Grapevines on the other hand, start to lose productivity around 9º F, according to
Washington State University's Viticulture and Enology department
. This presented a problem for farmers in Inner Mongolia who wanted to grow grapes. It turns out they're not the only ones with this problem. Researchers at
Cornell University's Enological school
addressed this issue when New York's wine regions lost a significant portion of their crop due to cold temperatures. They concluded that burying healthy grapevines can protect them from harsh winter freezes, albeit with some consequences. The study expresses that "buried buds are often weaker and less productive than buds left unburied when winters are mild" and "that in spring the buried buds will emerge later than 'normal' buds and may produce less fruit."
Further digging (no pun intended), brought me an instructional document published by Oregon State University called
Protecting Grapevines from Winter Injury
. This study describes several ways to protect against cold winter temperatures, including burying the vines. All this brings me to the question, to what lengths is it worth going in order to produce grapes in regions that really don't seem hospitable to grapevines? And even if we find ways to produce grapes, can we really expect to make good wine from those grapes that have undergone such harsh conditions in order to survive?
To be fair, my brother didn't bring back any bottles with him, and I haven't come across any wine from Wuhai in stores, so I've never tried any wine from Inner Mongolia. But if we have to go so far as to bury a grapevine and manipulate its natural growth in order to make it productive, what kind of end product should we expect?
I came across a somewhat similar scenario when I visited the winegrowing regions of Washington State this past summer. Having never visited this region before, I was unaware of the climate of the Columbia Valley. I learned that while the area surrounding Seattle--that is, west of the Cascade Mountains--is considered a temperate rain forest with over sixty inches of average rainfall a year, once you cross over the mountains, its a veritable desert. And when I say desert, I'm not exaggerating. The Columbia Valley receives less than six inches of rainfall a year. Six! That's actually less than the Gobi Desert (ironically located in Mongolia just steps away from Inner Mongolia).
So, how do they produce so much wine in the Columbia Valley, you might ask. Irrigation. Everything in Washington State is irrigated. According to
Washington State University's Irrigation website
, 1.8 million acres of agricultural land in Washington are irrigated, and 80% of the water that is used by humans in Washington is used for irrigation. That's a lot of water.
Now, I have had the experience of tasting many wines from Washington State and I can say that there are a number of good wines coming from this region. And I'm not the only one who thinks so. In 2009, Columbia Crest's 2005 Reserve Cabernet Sauvignon received Wine Spectator's Wine of the Year and just this year, Spring Valley Vineyards came in at number twenty seven on
Wine Spectator's Top 100 wines list
with their 2010 Uriah. But I have to ask myself, is it worth it? It's clearly possible to produce good wines from inhospitable regions, but at what point does it become artificial to grow grapevines in regions that clearly weren't meant for it?