I apologize that my posts in the past month haven't come so regularly. I have been deep in planning mode for (Un)Common Grape, getting things up and running, working on marketing and building content. I have a great lineup coming, though, so thanks for sticking with me. Right now, though, I get to talk about a great event I just attended called In Pursuit of Balance.

In Pursuit of Balance
(IPOB) is an organization founded by Rajat Parr of Michael Mina, RN74, and very recently
Evening Land Vineyards
, and Jasmine Hirsch, of Hirsch Vineyards with the intent of promoting balanced pinot noir and chardonnay from California. This is only their fourth year in operation, but so far they've assembled a knock-out cast of wineries from all over California. There were thirty one wineries at today's tasting, all of whom subscribe to the In Pursuit of Balance "Manifesto of Balance" that says, "Balance is the foundation of all fine wine. Loosely speaking, a wine is in balance when its diverse components – fruit, acidity, structure and alcohol – coexist in a manner such that should any one aspect overwhelm or be diminished, then the fundamental nature of the wine would be changed."
After taking the PATH in from Jersey City in the FREEZING cold, I arrived at Three Sixty, an event space in downtown Manhattan. I arrived towards the beginning of the tasting so it wasn't too crowded yet, but the first couple tables were busy, so I went to the end and began there. Except for a brief detour at
Soliste
, that meant starting with
Wind Gap Wines
since the tables were arranged alphabetically. Both of these were solid starts, but nothing to blow my socks off. The next two are worth talking about, though. First were the chardonnays from
Varner
. I've long been recommending the Foxglove chardonnay to people for its incredibly drinkable value and lack of oak. This is Varner's entry-level wine and so I was glad to be able to taste their flagship wines. They make three single block chardonnays from the Santa Cruz Mountains. All of them are from the same vineyard, just different parts. My favorite was the "Bee Block" 2011. I thought it had the best balance, per the IPOB definition, juggling acidity, oak and structure beautifully.
The very next table also had a standout wine. This was a new winery to me and I was glad to meet owner/winemaker of
Tyler Winery
, Justin Willett. Tyler Winery is in Santa Barbara County and produces only pinot noir and chardonnay. Their Bien Nacido vineyard is located in the Santa Maria Valley AVA near the San Rafael mountain range. It's a cool climate area and this coupled with the old vines makes for a beautiful expression of pinot noir. I thought that this was one of the more elegant, yet powerful pinot noirs of the afternoon.
The next winery on my list is
Red Car Wine
. This was another new face to me, but I was glad to make their acquaintance. I met Carroll Kemp, winemaker at Red Car who was a joy to talk to. I was thrilled to taste their 2013 rosé of pinot noir which was lively and refreshing but the hit of the table was definitely the "Zephyr Farms Vineyard" 2011 pinot noir which was full of blue and black fruits, dark and luscious.
Next I was able to taste through the wines from
Andy Peay
, who was there to lead us through his wines. Despite being their entry-level chard (and by entry-level I mean $45 a bottle and primarily available only on their mailing list), this wine was one of the most "balanced" wines of the tasting. It was a beautiful expression of the grape, showing delicious green apple and melon with a bit of honeysuckle and mandarin orange to round things out.
There were a number of other very good wineries I tasted--too many to call out all of them to be sure--but others of note were:
Matthiasson
,
Littorai Wines
,
Lioco Wines
,
Hirsch Vineyards
,
Hanzell
(a personal favorite of mine and a vineyard I visited back in February 2013), and
Anthill Farms
. Two more that I'd like to pay more tribute to, however, are
Liquid Farm
and
LaRue Wines
.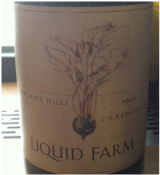 First, let's talk about Liquid Farm. I was taken through the wines by Nikki Nelson, assistant winemaker for the winery. In addition to describing their beautifully made wine, she told me an incredible story behind the label on the bottle. It's on their website, but it sounded better coming from Nikki herself. The team who started the winery was looking for something to embody their Above Ground/Below Ground philosophy: Above Ground for any particular vintage year, and Below Ground for the terroir of the AVA. Due to a long-time fascination with dandelions, which ironically have been used to make tonic for the liver, they did some searching for images of dandelions when they came across a black and white rendering of a beet plant with its root and a faint line across the middle. They contacted the artist, a
Ms. Val Littlewood
from the United Kingdom, and asked her to adapt this for their label. The line that was there from the start, now took on new meaning as the vintage is always placed above the line and the AVA, vineyard and variety are placed below. All three of the chardonnays they produce were excellently crafted and drank beautifully.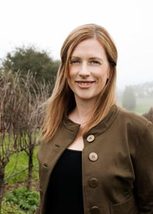 And finally, there is LaRue Wines. LaRue, I thought, had the best story by far of all the wineries there. Katy Wilson is the brains and the brawn behind LaRue. Wilson knew she should be a winemaker at the age of 18. She grew up on a walnut farm and so has an agricultural background that she continued by attending Cal Poly and obtaining an Agricultural Business degree. After graduating she worked for an assortment of great wineries including Torbreck in Australia, Craggy Range in New Zealand, Joseph Phelps in Napa, and Flowers in Sonoma. In 2009, everything fell into place for Wilson to make her own wine. She had a facility in which to make the wine, she had someone offer her grapes and she was able to scrounge together just enough money to make it work. She literally took this project from start to finish and still handles just about every part of the winemaking project herself. At only 31 years old, it's pretty incredible how much she has accomplished.

All in all the tasting was quite enlightening. Despite my tendency towards Burgundy and Oregon pinot and chard, this tasting definitely showed there are a number of excellent expressions from California. I think Jasmine Hirsch and Rajat Parr are onto something by promoting balanced wine from there. There are far too many producers making high alcohol, over oaked wines way out of balance. It is encouraging that there are some who are trying to swing the pendulum back to the center. I hope others will sign onto their manifesto so they, too, can be in pursuit of balance.