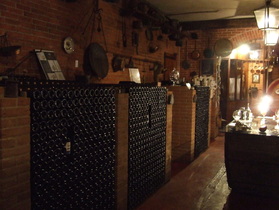 Ca' Rome
was the second property we visited on day one. We ended up being a little late to our appointment because it was up in Barbaresco, forty minutes from Castiglione Falletto. Paola, who greeted us, didn't seem to mind. In fact, she was incredibly hospitable and extremely accommodating. Ca' Rome is a small winery run by the Marengo family with a total production of around 2 500 cases. Paola's father, Romano handles all aspects of production while Paola is the company's primary sales and marketing representative. The winery itself was quite small but extremely quaint and cozy. They use both casks and barrels in their production and while located in Barbaresco, of which they make three different ones, they also produce two Barolos along with a barbera and a nebbiolo/barbera blend.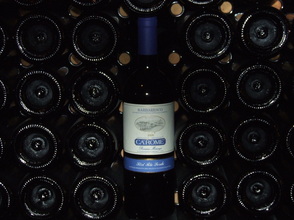 We ended our tour back where we started, at the front of their winery where a fabulous tasting table was setup, nestled in between stacks of bottles tucked into brick stalls. We tasted through four of their wines while munching on hazelnuts, notes below. You can see my visit to the winery by visiting my
YouTube
page.
2009 Barolo (from cask)
The flavors of this wine were very enjoyable for such a young Barolo. However, it was clear that this wine needed more time to mature and gain complexity. According to their technical sheet, it's coming to the end of it's barrel aging regiment, but will spend a little more time in bottle where hopefully the wine will be able to grow up a bit and everything will mesh together. I've read that this wine really peaks at a minimum of 15 years, so perhaps it really does just need time.
2006/7 Barbaresco Chiaramanti
I forgot to note the vintage on this bottle and so I can't remember whether this was the 2006 or the 2007. If I had to pick one, I'd say 2007. I thought this was a very well-made wine. It had great balance and had layer after layer of flavor. Ripe and fairly easy to drink even now, especially with some of the local fare: meat and truffles.
2007/8 Da Pruvé
This is a brand new project for them (and again I forgot to look at the vintage. I was a little worn from traveling. But again, if I had to guess I would say 2008). It's a straight 50/50 blend between nebbiolo and barbera that combines the best of both worlds: the acidity and freshness of barbera with the structure and depth of nebbiolo. It's a great wine to enjoy young while you wait for the Barolo and Barbaresco to age to maturity.