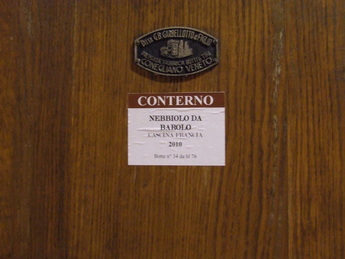 This was one winery I was particularly looking forward to visit, mainly because I hadn't yet had the experience of trying their wines, but had heard much about them.
Conterno
is a producer that makes very little wine, and as such is very hard to find, very expensive, but that much more worth it when you do get the chance. We met up with Stephanie Flou, an international account manager for the winery who had just recently started working there. She was very knowledgeable and helpful, especially since Roberto Conterno, who was our true host, does not speak much English, and I unfortunately do not speak Italian. Stephanie acted as our translator.
The winery really has only two rooms, fermentation and aging. Conterno is an extremely traditional producer. That means that all of his aging occurs in very large oak casks made from Slavonian or Austrian oak. In this case, his casks were between 45 and 55 hectoliters, or 1 200 to 1 500 gallons. This also means that there is very little oak flavor added to the wine during the aging process. All of his wine is aged for at least two years and, as is the case of his Riserva Monfortino, it can be as many as eight years.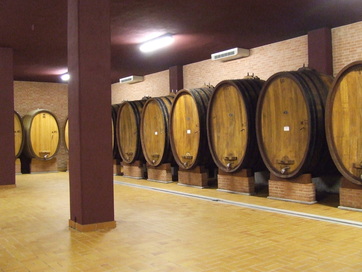 Roberto was extremely down to earth. In fact, when we arrived he was still on his way in from the vineyard. He said he had to check on a few things since there had just been a big storm. When I asked later what his favorite part of the winemaking process was, he responded by saying that he most enjoys pruning. I pressed further. "Pruning?" I said. "Really?" He said he finds it cathartic and rewarding. It's a task that allows you to see the results of your work immediately.

The vineyard where he came from, Francia, is something that makes Conterno very unique in Piedmont. Most vineyards in Piedmont are used by many different producers. Francia, on the other hand, is a monopole. That means that Conterno owns the entire 45 acre vineyard and makes all of his wine from there (except for the seven acres he bought in a different vineyard 6 years earlier).

Everything we tasted with Roberto was straight out of the cask. None of it was ready to be bottled. We tasted three wines, one barbera and two nebbiolo. Those are the only types of wine that Conterno makes. He used to produce dolcetto, but recently ripped up the vines and replaced them with barbera. Tasting notes below.

2009 Barbera
This was fresh and fruit forward. As Roberto was quick to point out, this wine is meant to be drunk young, less than five years in his opinion. It has high acidity and much less tannin than wines made from nebbiolo. Very enjoyable.

2009 Barolo
Roberto mentioned that this was still young and had the firm tannins and structure to prove it. I think that this would definitely mellow with some age. But this wine had power. Roberto mentioned that this is the point when he is deciding whether he will make a riserva Monfortino or not. Since he only makes the Monfortino in exceptional years, it will be interesting to see what he decides. Based on what I tasted, I wouldn't be surprised if this became Monfortino.

2006 Monfortino
This was a real treat. Smooth, silky tannins with brilliant acidity, cherry, cassis, licorice, tanned leather and nice aromatics. And based on the structure I tasted, this wine is still a baby. It needs several more years to fully develop, but when it does, it'll be quite a pleasure to drink. I'll be impatiently waiting for this to be bottled.