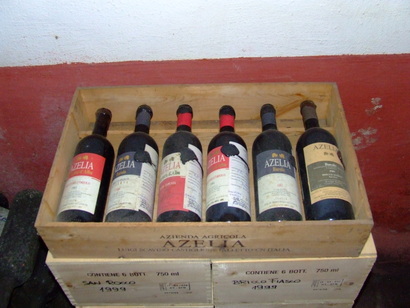 Our final stop of our week in Piemonte was the winery of
Azelia Luigi Scavino
. The winery is located just off one of the main roads at the foot of the hill of Castiglione Falletto. We were greeted warmly by Lorenzo Scavino, fifth generation of the family of winemakers. He showed us around their facility and explained how for them, "wine is the business, but it's also the passion of the family." Everyone helps out and is involved in the winery. Their wines are a blend of traditional and modern in a way that is able to highlight the best of both worlds.
It doesn't take long to see the whole of the small production winery (less than 7 000 cases) but they are in the process of pumping the wine from the aging barrels to the final blending tank they use for bottling. It's a process I've never seen before so it was cool to get to witness it. Lorenzo also showed us their small collection of older vintage bottles. They have wines that go back to at least the 1960s. I'd love to taste those someday.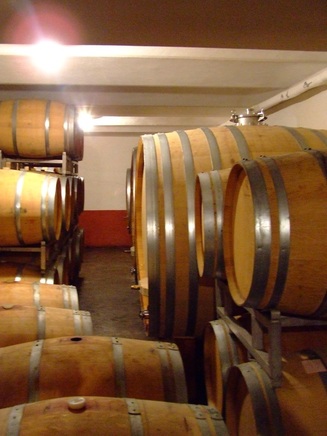 Speaking of tasting, we were able to try everything that Azelia makes. Here are some notes:

2010 Dolcetto d'Alba Bricco dell'Oriolo
Azelia makes one of my favorite dolcettos. It's bright and clean with lots of fruit and floral notes. It's a wine that's simple but thoroughly enjoyable.

2007 Barolo
This Barolo is a blend of vineyards from Castiglione Falletto and Serralunga. The vineyard in Castiglione Falletto is the same one from where they get the Riserva fruit, so the quality is impressive for being a simple Barolo.

2008 Bricco Fiasco
We tasted this alongside the next two wines, Margheria and San Rocco. It's a great way to see the difference a vineyard makes. This vineyard is in Castiglione Falletto and is one of the great pedigrees of nebbiolo. This wine has finesse and character and shows a lot of floral and red fruit notes.

2008 Margheria
The Margheria vineyard is located in Serralunga and produces a higher-toned and minerally wine than that from Bricco Fiasco. It's also much earthier and has more black fruit and spice character. Very nice wine.

2008 San Rocco
San Rocco is also in Serralunga but is more complex and full-bodied than the Margheria. There's certainly notes of red and blue fruits, but it has a backbone of velvety tannins that tell me this wine will last for a long time.