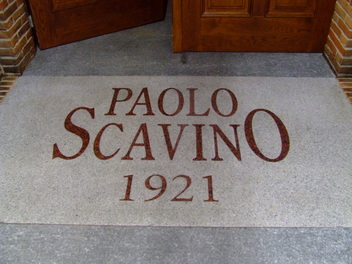 This was the fourth day of our trip to Piedmont and my parents and brother had actually joined us by this point; so, we were five in total. We arrived bright and early at
Paolo Scavino's
fairly new winery facility. Bright and early, that is, in Italy, meaning sometime after 10:30 am. We were promptly met by Elisa Scavino and the most docile two year old dog I've ever met. Elisa is the third generation to be working at the winery. It was started in 1921 by Paolo Scavino himself. Elisa's father, Enrico, started working in the winery from the time he was a boy. It was his foresight and innovation that brought the winery to the next level. We even got to see some of his inventions including a horizontal fermentation tank with an interior paddle to turn the must.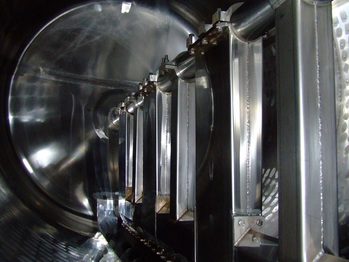 From the fermentation room, we moved onto the barrel cellar, one floor below to allow for gravity to take the wine from tank to barrel, a process that is more gentle on the wine than pumping. But the most impressive part of the tour was the library that Scavino keeps. A library, when it comes to wine, has nothing to do with books. Instead, this kind of library is a sort of record keeping of every wine the winery has ever made. We entered a long, dark hallway that was full of bottles of wine. Starting with the most recent vintages, Scavino has wine going back to the 1950s. It was incredible how much they have saved over the years, but what a way to see how your wine evolves over time.
We finished, of course, by tasting through several of Paolo Scavino's wines. They have a lot of single vineyard Barolos that we tasted side-by-side which is an excellent way to see how even though the wine is made from the same grape in the same winery, each vineyard has its own unique characteristics. It's also a more modern trend that goes against the traditional style of blending multiple vineyards into one wine. Tasting notes below.
2010 Sorriso
This is the only white wine they make, and it's a very unique one for the region. It's made up of 40% chardonnay, 40% sauvignon blanc, and 20% viognier. It's all stainless steel so the fruit really stands out. This is a wine with good acidity, but tropical in a way that lets you know Piedmont can be a hot region.
2011 Barbera d'Alba
Paolo Scavino makes their barbera 100% in stainless steel so this is fresh and fruit forward. The wine is very lively and clean with good acidity and balance. Clearly meant to be drunk young and great for food.
2008 Barolo
This is the one classic Barolo that Paolo Scavino makes. The grapes come from several different vineyards around the area. As I mentioned, blending is a more traditional style. It allows for the best attributes of each vineyard to come out in the finished product.
2008 Barolo Carobric
This wine is a trademark of the winery. The name is an amalgamation of the three vineyards from where it comes: Cannubi, Rocche di Castiglione, and Bric del Fiasc. This wine had luscious fruit and some serious grip. It'll be better in a couple years, but is enjoyable now.
2008 Barolo Bricco Ambrogio
This is a relatively new property for Paolo Scavino, being purchased only in 2001. This was the softest and most elegant of the Barolos we tasted. As such, this one is best drunk sooner rather than later in my opinion, but I would be interested to see how well it holds up over time.
2008 Barolo Monvigliero
As with the last vineyard, I'd never heard of Monvigliero. This property is located outside the village of Verduno. This, too, was a more on the more elegant side of Barolo, but with a bit more spice and complexity than the Bricco Ambrogio. Nice wine and I think this one would age beautifully.
2008 Barolo Cannubi
This wine is a powerhouse. Big and bold, exuding structure, tannin and longevity, this wine isn't going anywhere fast. There's plenty of length and fruit to tell me this wine will be best with plenty of time under its belt. It's a clear example of some of the best Barolo has to offer.
2008 Barolo Bric del Fiasc
Bric del Fiasc was one of the first Barolos to ever be made as a single vineyard, and it's clear why Paolo Scavino chose to do it. It is the best the winery has to offer. Dark, brooding and rich, this wine has all the structure to last decades, but with a finesse that makes it clear the wine will maintain a beautiful balance of fruit and acidity for all that time. The best of both worlds: power and elegance.