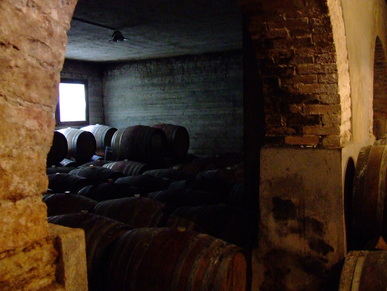 Sottimano
was one of the two properties we visited in Barbaresco. Off in the tiny commune of Cottà south of the village of Barbaresco, Sottimano was one of the smaller properties we visited. We were met by Andrea Sottimano who took over from his father Rino who started the winery in 1975. Similar to Paolo Scavino, Sottimano makes a lot of single vineyard wine. They are also completely organic and take great care to intervene in the life of the wine as little as possible (i.e. the wines are unfined and unfiltered, etc.).
Andrea shows us around the small farmhouse where the family produces their wine before we taste. The barrel cellar fits snugly in their basement next to the small fermentation room. They use old (neutral) oak barriques that impart no flavor to the wine but allow oxygen to interact with it. We then took a brief stroll into the vineyard where dolcetto was undergoing veraison (turning from green to purple). And then, onto the tasting. Notes below.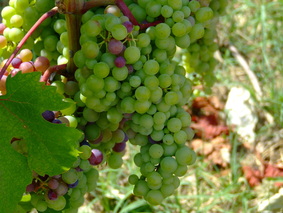 As I mentioned, Sottimano produces several single vineyard wines so there was a lot to try. Andrea was very passionate about his wines and was even kind enough to open a vintage of 2004 Pajoré so we could compare it to the 2009 we were drinking. It was a pretty cool comparison. There were definite differences due to the age and vintage variation, but both wines clearly had the same core of dusty tobacco and dried cherry fruit. It is really special.

2009 Barbera d'Alba Pairolero
This was one of the more inky and minerally barberas we had that week. It was definitely a serious wine and had more depth and intrigue than most barberas.

2009 Barbaresco Pajoré
This was probably my favorite of the bunch. I think it had a really great balance between fruit, minerality, spice, and floral notes. It was powerful yet elegant and drank well but could clearly last for years to come. An excellent Barbaresco.

2009 Barbaresco Fausoni
The Fausoni is a typical expression of Barbaresco: fine elegance balanced by firm tannins and red fruits. This is a great bottle for someone to try who is unfamiliar with the region.

2009 Barbaresco Cottà
The vineyards for the Cottà surround the winery and slope away from it to the north. This is also the biggest production Barbaresco they make at 800 cases. It is similar to the Fausoni but with more red fruit and acidity.