A good friend who has been avidly following my writing from the beginning recently commented to me that at times my entries can get a little complicated. I admit, at times I get a little carried away with the topic at hand and start waxing poetically about fermentation vats or ageability or lees stirring. I've always been a bit of a nerd, so it's hard for me to keep it simple at times. For this reason, I am grateful for friends. It's always important to have someone there to shut you up when you start to trail off into geek land.
With that in mind, What is Wine is about getting back to basics. We started last month with Vintage. And while I may get a little geeky, I do my best to try and make the essentials of wine as easy to understand as I can. So let's start at the beginning.
In the beginning…well ok, maybe not quite the beginning, but a pretty long time ago, there was wine. In fact, just recently, archaeologists discovered a palace in modern day Israel that apparently housed the oldest wine cellar ever found. The wine cellar is believed to date to 1700 B.C. An archaeological dig in modern day Iran claims to have unearthed vessels from 5000 B.C. that scientists believe once held wine. And both the Christian Bible and the Jewish Tanakh tell the story of Noah who after the flood "proceeded to plant a vineyard" and "drank some of its wine."
In all that time, wine hasn't changed all that much. At the most basic level, wine is a drink made by fermenting the juice of grapes (this is the technical dictionary definition). For me, wine is a drink that makes life better. Now many people may interpret that statement to mean that when wine is drunk in quantities that alter your state of mind life appears better. While that can be true, that is not what I mean. It's my belief that from the first sip, wine begins to enhance experiences, not from a chemical perspective, but from a sensorial perspective. What I mean is this: when wine is added to an experience--whether it be a meal, an outing, a gathering--it brightens the mood, it lightens the spirit, it connects us to one another. And so life does not merely appear better, it actually is better. This to me, is actually the best argument for not overdrinking. By using wine to enhance life and not alter it, you actually end up with a better experience. I have found that there is a uniqueness to wine, in particular quality wine, that is hard to find in any other experience. And thus, while wine is basically a very common beverage, there is something entirely uncommon about what it can be.

Back to a bit of history… Oftentimes, wine in the ancient world was also spiced with various ingredients. Recipes have been found in ancient texts and residue recovered from clay vessels that lead us to believe ancient winemakers spiced their wines with ingredients such as honey. Often the wines were also resinated. (Wine used to be stored in clay amphorae or pots that were sealed or coated with pine resin to keep them watertight. The wine would pick up resin flavor from this sealant much in the same way wine takes on an oak character from being stored in oak barrels today. You can still find retsina--the modern name for this style of wine--in wine stores today. Kourtaki is a common producer.) Over the centuries, the addition of spices has faded, but wine is still made essentially the same way. Take a bunch of grapes, press them to get the juice out, let it ferment and sometimes age, bottle and drink. Let's talk about some of the details.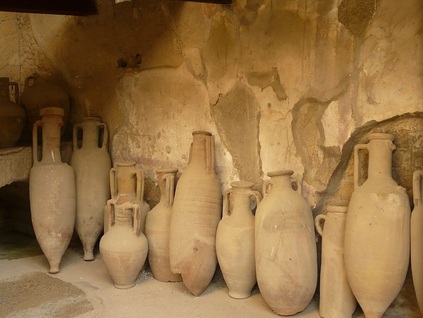 Since wine is made from grapes, we'll start there. Grapes are the fruit produced from grapevines. There are numerous types of grapevines in the world, but ninety-nine percent of wine is only made from one type: vitis vinifera. The other types of grapevines are used for products like raisins or grape juice or for just plain eating. These are the types of grapes you see in the grocery or what's used in Welch's. While you can make wine from these grapes--and people certainly have--I wouldn't recommend it. Wines made from these table grapes tend to be bland, uninteresting and sometimes astringent. The type that table grapes come from, most commonly vitis labrusca (concord grapes are a variety of vitis labrusca), end up having a very musky or "foxy" flavor when they are made into wine. I find it quite unpleasant.

Vitis vinifera originally comes from Europe, but can now be found all over the world. There is, however, a sweet spot for production. Almost all grapevines grown for making wine are located between the 30th and 50th parallels latitude in both the northern and southern hemispheres. It takes about three years for a grapevine to start producing grapes that can be made into wine. This is why replanting vines for a winemaker is a significant investment. Not only is she paying for the new vines and all the time and labor it takes to plant them, but then she must wait three years to see a return on her investment. Grapes are harvested in the Fall (August - November) in the northern hemisphere and in the Spring (March - May) in the southern hemisphere. So when you start seeing 2014 New Zealand sauvignon blanc on the shelves this October, don't be alarmed, the grapes were harvested this past spring and so the wine had several months to be made.

Ok, so some of you may be asking at this point, why do I care about the grapes? Well, in wine, we use grapes as a reference to talk about the wine. When you start talking about how much you hate merlot or that you like the fruitiness of riesling, you're really talking about the grapes. Merlot and riesling are two examples of vitis vinifera grape types. Some of the other common grapes you may be familiar with are: sauvignon blanc, pinot grigio/gris, chardonnay, sangiovese, pinot noir, syrah/shiraz, cabernet sauvignon, zinfandel. These are all technically different vitis vinifera grape names that we've used to describe the wine made from those grapes. It may sound confusing, but I think of it kind of like cuts of meat. There's not just beef, there's chuck, sirloin, round, rib, etc. They're all beef, just different types.

This is De Long's Wine Grape Varietal Table. It lists just a few of the thousands of grape varieties that exist along with their most common characteristics.
Once the grapes are harvested, they get brought to a wine press. I know it's romantic (or gross depending on who you are) to think of nona and nono stomping out all that grape juice with their barefeet, but that's not so much how it happens any more. For centuries this was accomplished with a wooden press that looks almost like a wine barrel with a corkscrew on top. When you tighten the corkscrew a solid piece of wood lowers onto the grapes and starts squeezing the juice out.

These days, it's pretty much always done with a computerized press. It works mostly the same way, but the parts are typically metal or plastic and the squeezing is controlled by a computer. This gives the winemaker a lot more control in how much pressure she uses.


Next up in the What is Wine series I'll talk all about the grape juice, after all, you can't have wine without grape juice.


A modern winepress at Robert Mondavi Winery. This one maintains a more traditional style by still using some wood.