Apart from sightseeing what little there was to see and spending a bit of time at the Family History Library doing some genealogy research, I pretty much spent my week in Salt Lake City looking for the best places to eat on a budget. It feels like I spent about as much time looking up places on Google Maps as I did actually eating. But it was worth it. Most of the places I found to eat (and drink) were relatively inexpensive (dinners under $15, lunches under $10) and overall a great success. Here's a breakdown of where I ate and what I thought.


BTG Wine Bar
63 West 100 South
Salt Lake City, UT 84101
BTG [By the Glass] was the first place I checked out in Salt Lake City. And it was a great start. The interior is relatively intimate, about fifteen tables, plus the bar. The décor was relatively simple with features like reused liquor bottles as hanging pendant lights. But, it had an elegant feel. I was so impressed that I took Jamie back the last night we stayed there.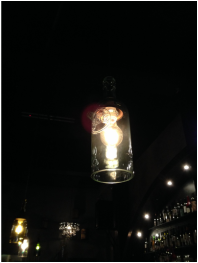 The staff was phenomenal: friendly, honest and approachable. I had a great time talking with the bartender and hostess who genuinely enjoyed talking about wine. Both of them were clearly eager to learn more about wine and equally interested in sharing what they have already learned. Neither of them tried to sell me on anything, nor were they pretentious in their descriptions of wines they recommended (or didn't recommend). They were both incredibly enjoyable to talk with.

I learned that BTG is relatively new, only in business for about eighteen months. The sommelier in charge of the wine selection wasn't there so I didn't get the chance to speak with him, but I did find out that their wine selection changes frequently, always keeping the options fresh; there are over seventy-five wines available by the glass in two or five ounce pours. It was quite an impressive setup.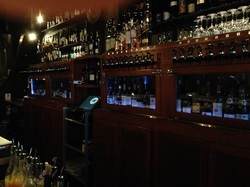 They serve the whole menu of their sister restaurant, Café Molisse, but both nights I just ordered from their bar menu.

The first night I was there I ordered the Mediterranea salad and was blown away. It was a simple salad of mixed greens, sun-dried tomatoes, olives, and goat cheese with a balsamic vinaigrette, but the flavors were well balanced and the ingredients fresh. I've never been one for olives so much, but I ate every one of these as they were much tastier than other olives I've had. And the wines I drank matched nicely:
Simmonet Febvre Brut Rosé -- excellent as an aperitif. Good acidity, beautfiul rose and strawberry notes.

2012 Vietti Arneis -- this is a favorite of mine I've had many times before. It is crisp and zesty without being overly acidic. Lovely melon and fresh apricot notes as well.

2012 Tenuta Sant'Antonio "Scalia" -- this was a wine I was completely unfamiliar with but I trusted the recommendation of the bartender. I wasn't disappointed. It's 100% Corvina, a traditional grape from the Veneto region of Italy. The wine was lightly herbaceous, but in a good way, with green pepper and leather notes and just a hint of chocolate. It paired exquisitely with the olives as the saltiness brought out more of the red berry and cherry fruits in the wine.

2011 Palacios BIerzo -- I finished the evening with another familiar wine that I love for its chocolate and tobacco notes. It was actually a very good match to the incredible aged balsamic that was drizzled over the goat cheese in the salad. This is still young but was a great way to end the evening.

The second night there it was Jamie and I together. Once again I ordered a salad from the bar menu but this time, a spinach salad. Not quite as enjoyable as the Mediterranea, but still fresh and well-balanced. Here's what I drank the second time around:
2011 Carol Shelton "Coquille" Grenache Blanc -- this was one I'd never heard of but I've been enjoying white Rhône-style wines lately so I wanted to give it a shot. This was nicely balanced with good acidity while remaining round and supple on the palate. It had notes of lemon, mango, honeydew and spice. It was enjoyable and something I'd probably drink again, but nothing earth-shattering.

2011 Graville Lacoste Blanc -- I've never had the white from Graville Lacoste so I was interested to see what this was like. To be honest, I found it a little disappointing. But it did have some nice bright acidity with flavors of melon, honeysuckle, peach and lemon. I also detected a strange and slightly off-putting aroma that reminded me of a barbershop. Overall it felt a bit one-dimensional, though.

2010 Fessy Cru Beaujolais Julienas -- We finished off the night with a cru Beaujolais. This had a bit of structure but mostly I got red fruit like strawberries and cherries. I commented to Jamie that this wine felt like it was in-between good years. I think a year ago this wine probably would have been better because there would have been more fruit characters present. At the same time, I think it may develop some interesting tertiary favors with more age, finding more black tea, leather, and tobacco notes.
Toasters Deli
151 West 200 South
Salt Lake City, UT 84101

I grabbed lunch here the one day. They serve fresh and flavorful sandwiches and soup. It was right across the street from the Salt Palace Convention Center so it was packed with convention-goers. Because of this, and because it was such a nice day out, I decided to get my sandwich to go and found a park to eat in. I ordered a capicola and salami. As far as sandwiches go, it was about as good as they get. The bread was tasty, the meat well-proportioned and the whole thing seasoned well. Even the potato chips were yummy.

From Scratch
62 East Gallivan Avenue
Salt Lake City, UT 84111

This place was probably my second favorite of the trip. It was very low-key with a clean, modern feel. Their menu is simple, but appealing. I had read good things about their pizza so I tried their White Out along with a glass of their specialty on tap, a local beer from a brewery right in SLC, Squatter's. The pizza was your typical white pizza, ricotta, alfredo sauce, garlic, parmigiano and mozzarella. The most enjoyable part, though, may have been watching the pizza chef at work. I sat at the bar which faced the wood-burning brick oven so I had a front row seat to the cooking. It was a lot of fun since I've been enjoying making pizza lately. I picked up a few tips and had a good time while at it. The beer paired nicely with the pizza and I was impressed with its quality. I got the chance to sample a beer from a different brewery right in SLC a different night and needless to say, I won't be trying that beer again. But this was a nice pale ale, light and citrusy with the right amount of hops.

Spitz SLC
35 East Broadway
Salt Lake City, UT 84111

This was SLC's own döner kebab. I know kebab from my days studying in Strasbourg, France where kebabs were fairly common. But if you're unfamiliar with döner kebabs, they're essentially middle eastern street food. Typically it's a large hunk of lamb or beef that is cooked on a vertical spit (hence the name of the restaurant). Cooking vertically allows the juice and fat to drip slowly down and provide more flavor to the meat. The meat is shaved off the spit and packed into pita with various accompaniments like lettuce, tomato, onion and tzatziki sauce. Very tasty.

The atmosphere at Spitz was very lively and was probably the most packed I saw any place the whole week. You order from the counter and they bring you your food. I got a Zesty Feta Döner along with a local beer. The pairing was good and the kebab hit the spot nicely.

Eva's Bakery
155 South Main Street
Salt Lake City, UT 84101

Jamie and I missed our hotel breakfast the one morning so we headed over to Eva's instead. I hadn't planned this, but was kind of glad since I had read some good things. It was a quaint little French-inspired bakery that had delectable pastries and inviting breads. We ordered from their breakfast menu and I got their decadent stuffed French toast with blueberry syrup. It was pretty much amazing and if I hadn't been so full, I might have been inclined to get a taste of everything from this bakery.
I also ate at these places and while perfectly fine, they were not worth mentioning in detail:
Siegfried's Delicatessen
20 West 200 South
Salt Lake City, UT 84101