Yesterday was the third Thursday of November, exactly one week before Thanksgiving. I'm a particular fan of this day. Yes it means there's only a week to go until the holiday that celebrates how much I love food ('cause let's be honest, it's more about food than anything else). And I get to spend some quality time with family and friends. I do enjoy the holidays. But this isn't why I like the third Thursday in November. In France, that day is also known as Beaujolais Nouveau Day. Maybe it's because they don't have Thanksgiving in France, or maybe it's because the weather starts getting colder, but for the past thirty plus years, French men and women have celebrated the release of Beaujolais Nouveau each third Thursday of November.

Beaujolais Nouveau is the first wine released of the current vintage; so this year it's the 2014 vintage. It is a celebration of the harvest and a new year of winemaking. It's a wine made in a very light and fruity style that is made for drinking right away. I love this tradition and so each year I join in the festivities wholeheartedly. For the past six years I've done a blind tasting of a couple of the Beaujolais Nouveau wines that have just been released. It's a fun tradition and I enjoy taking part. This is my way of hearkening back to a time when celebrating a successful harvest was commonplace because a successful harvest meant a successful winter. And celebrating harvest has long been a way of commemorating what has happened during the previous year.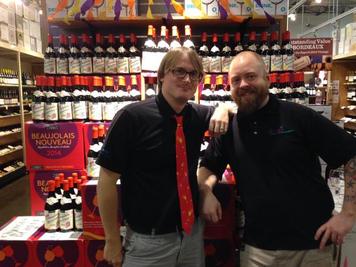 One of the biggest supporters of Beaujolais Nouveau, and the driving force behind the beginning of Beaujolais Nouveau Day, is the producer Georges Duboeuf. One thing that Duboeuf does each year is commission an artist to create the label of their Nouveau wine. They also release a necktie that matches the label each year. And so each year I have participated, I've also gotten a new tie. I wear it all Thursday, despite it usually being a pretty ugly tie as far as ties go. I have a lot of fun with it and then I never wear the tie again.
So this Thanksgiving, or sometime during the holiday season, I encourage to do a few things. First, get a bottle of Beaujolais Nouveau. Apart from hearkening to the coming vintage that is yet to be released, it's a fun tradition and if you've never tried it, all the more reason. And two, spend some time, perhaps with a glass of Nouveau at the ready, commemorating what has happened in the past year, the good and the bad. It'll give you good perspective. It'll prepare you for the year to come. And it'll help you be thankful.
To watch me blind taste Nouveau six years running (and to see all the ugly ties) click here.