If you haven't figured it out by now, my wife and I both have a particular love of travel. It's something that both of us describe as defining attributes of who we are. And so every year we try to take at least one trip to somewhere in the world, and we try to make it out of the country. So far we've succeeded in this for each year that we've been married. And so this year, we just returned from a ten day trip to Norway. We spent time in the capital, Oslo, the fishing town of Bergen, and the alpine farming town of Undredal in the Western fjords.

I learned at least two things on this trip. One, Norway is one of the most beautiful countries I've ever visited. We saw very little of the entire country, but from what we did see, it's no wonder that Norwegians spend so much time outdoors. Sure it's cold, but the natural beauty is worth it from what I could tell of the dramatic fjords and devastatingly beautiful tundra we saw. That doesn't even include the elusive Northern Lights, powerful glaciers, charming archipelagos and exotic wildlife, all of which we didn't get the chance to see. Second and perhaps more to the point for our discussion, it's incredibly expensive to drink in Norway.

Norwegians are not known for their culture of alcohol by any means. It's too cold to grow grapes for wine; and they don't have a tradition of vodka production like other cold weather countries such as Russia and Poland. But they do have a decent history of beer production--which we did get a chance to sample at a bit of a price--and they have their own spirit, aquavit, though interest in this drink seems to be dwindling. It's a shame because I did find it quite enjoyable.

Before heading to Norway I knew of aquavit but had never tried it. And while there, we actually only tried it once, again, primarily due to the exorbitant cost of consuming any type of alcohol. Retail sales are state controlled by an organization called Vinmonopolet. And while it was possible to find bottles of wine at decent prices, spirits and beer were noticeably more expensive. Buying a glass of wine or beer in a restaurant, however, is what really gets you. For example, a pint typically sold for no less than $10 for even the most common brands such as Ringnes and Hansa, the two largest producers in Norway. But since I knew aquavit as an exclusively Scandinavian beverage, I had to make sure I tried it while there.

I would describe Aquavit as a cross between vodka and cognac. It's made in a similar fashion to vodka by distilling a starch, most commonly potatoes in this case. But after this it is infused with spices, most predominantly caraway. Caraway, if you're like me and unfamiliar with it, is akin to other herbs like cumin, anise and fennel. After the infusion of spices, it is typically aged in oak casks which give it a rounder profile as well as an amber color.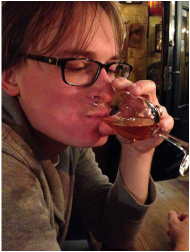 Aquavit is typically served in small tulip-shaped glasses for sipping and is traditionally accompanied by a beer. It is a very fragrant beverage due to the spices that are used and I found it pleasant and easy-drinking compared to many spirits. And, as I believe is a purpose of all spirits in cold-weather countries, it had the enviable quality of warming me from the inside. It felt like quite an appropriate drink for Norway.

Here in the US, we don't see much aquavit. If your local store carries it, it is most likely Linie Aquavit with a blue label. Most stores stock it next to other herb infused spirits like Drambuie or Chartreuse.