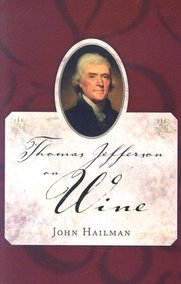 I recently finished reading
Thomas Jefferson on Wine
by John Hailman published by the University Press of Mississippi. In this book, Hailman chronicles the experiences the third President of the United States has with wine throughout his life in the 18th and 19th centuries.
Then:
Jefferson's earliest interactions with wine probably came in his late twenties (late 1760s or early 1770s). Much of this most likely would have been with Madeira, a usually sweet, fortified (high-alcohol) wine that was incredibly popular in the 18th century due to fortified wines' ability to travel well. Another popular wine was sherry, another fortified wine, as well as German white wine and Bordeaux claret. However, Jefferson would have been in the minority in drinking wine at this time in the United States. Most alcohol consumers in Jefferson's day tended to prefer beer or hard liquor. Jefferson believed his preference to be practical as well, writing, "No nation is drunken where wine is cheap; and none sober, where the dearness of wine substitutes ardent spirits as the common beverage. It is, in truth, the only antidote to the bane of whiskey." He even built a wine cellar into his home, Monticello.
Hailman relates that in 1784, Jefferson received the fortunate opportunity to travel to Paris as the newly formed United States ambassador to France. Throughout his time there, Jefferson continued to drink Madeira and German white wine, but also gained an appreciation for wines from Sauternes, Burgundy, the Rhône and Bordeaux. In 1787, he embarked on a three month trip through many of the wine regions of France, visiting Burgundy, the Rhône, Provence, the Languedoc, Bordeaux and Loire. He even stopped over in Northern Italy visiting the region of Piedmont. It must certainly have been an educational trip, but it reads more like a buying spree as Jefferson makes deals with many winery owners and secures relationships that will allow him to continue to purchase wine for the next several decades.
In the following year, Jefferson makes a similar trip to the Mosel region of Germany and Champagne. Hailman is very poignant to note that Jefferson was a meticulous record keeper and includes several wine lists that Jefferson made of his personal cellar. While red wines are certainly a fixture, many of these lists are dominated by fortified wines and white wines such as Meursault and Frontignan (a wine from the Languedoc which can also be red).
Finally, Jefferson returned to America in 1789 to become Secretary of State, a role Jefferson was not thrilled to accept. He held this position until 1794 when he had a brief inactive period until 1797 when he became Vice President to John Adams. He then became President in 1801. Until the end of Jefferson's second term as President in 1809, he continued to order wine extensively. Some he sent to the White House and some to his home in Virginia, Monticello. He built up quite a collection, but as he always served wine at state dinners and other affairs, the collection was constantly depleted. He also used his various positions of power to attempt to legislate lower import duties on wine so that there was easier access to his favorite beverage.
Hailman spends the last several chapters in the book describing Jefferson's endeavours during his "retirement" to bolster the American wine industry. Unfortunately, at that time there was no knowledge of the devastating pest phylloxera which prevented Jefferson from ever realizing his dream of planting successful vineyards in Virginia. Any vineyards that were planted had to use native varieties that were never as enjoyable as their European cousins.
Now:
The wine industry in America is certainly much closer to what Jefferson had imagined in his day. Wine is easily accessible in all 50 states and a popular beverage. However, as of 2014, the United States still consumes eight times more beer than wine, according to a recent Gallup poll. And, while there is a vibrant wine producing culture in the United States now, Jefferson's home state of Virginia is far from the epicenter. California, of course, is number one in production, followed by New York and Washington. Virginia isn't even in the top ten, coming it at fifteen. But, the wine culture there is rising and I've recently heard about several top quality wines being produced in the Commonwealth. Still to this day, however, European grape varieties don't do well in Virginia so much of the wine produced is still made from native American varieties.
One thing that did surprise me, however, is how much of what Jefferson wrote about in his day is still true today. Many of the top producers that Jefferson spoke of are still considered top producers today. What Jefferson wrote to be the four best châteaux in Bordeaux--Margaux, Latour, Lafite, Haut Brion--were officially recognized as such 100 years later and are still considered the the top four (and are now joined by Mouton-Rothschild). The same is true of the Sauternes producer Château d'Yquem and many of the Burgundy regions that Jefferson mentions.
From Hailman's descriptions, it also sounds like Jefferson had a knack for waxing poetically about wine, even when his audience wasn't interested. I think this has some analogies to the current wine critic. It is often said that the descriptions many wine critics use are irrelevant to the average consumer and so they lose their audience's attention. If nothing else, wine still has an aura of snobbery that it seems like Jefferson may have played into.
If you like both history and wine, as I do, this is certainly a book that combines the two. Personally, I would have enjoyed a slightly better handling of the topic of wine by Hailman. I don't know what other sources are out there to corroborate what Jefferson wrote and drank, but I would have appreciated seeing how Jefferson's tastes fit into the general public opinion. While there may not have been many other Americans talking about wine, I can't imagine there weren't Frenchmen and maybe even Brits who shared their opinions on the subject. It does seem true, however, that Jefferson was fastidious when it came to his records, with many different logbooks and keeping almost every letter he ever received. He even made copies of the letters he wrote so that they could be preserved. It was certainly this astute record keeping that gave Hailman such insight into Thomas Jefferson's opinions on wine.
Thomas Jefferson on Wine
written by John Hailman, published by the University Press of Mississippi, 2009.