There's a popular quote among winemakers, I'm not sure who to first attribute it to, that goes something like this, "You can make bad wine from good grapes, but you can't make good wine from bad grapes." I discussed last year
the importance of grapes in winemaking
, but before you even plant the grapes, you have to find a vineyard. Vineyards aren't easy to come by. Sure there's land out there. I've got a third of an acre myself and would love to plant a vineyard. But grapes are pretty finicky, for one. They prefer very specific soils and conditions. And each grape changes depending on which combination of soils and conditions they're grown in. And each winemaker has their preferences for the style of wine they wish to produce. Not to mention the price. Prime vineyard real estate is quickly
climbing in price
.
You may have heard of a French term,
terroir
, which is used pretty regularly in the wine biz. And while most people are pretty quick to point out there's no direct English translation making
terroir
an indispensable borrowed word, it's a pretty straightforward concept: this patch of dirt that I'm standing on is different from that patch of dirt you're standing on. Far be it from me to try and trivialize such an important, and of course romantic, concept--French concept at that; I am generally a francophile at heart and so would not deign to know more than they about some things, particularly if there's no English equivalent. But here's the basic idea:
The Earth is a complex place. Let's start with the stuff the ground is made of. My third of an acre has a specific soil composition. I've never gotten an official soil survey, but based on what I've dug out of the ground, it's probably some type of marly-clay-sandstone mixture (the details aren't important). In Napa Valley, there are 13 main soil types. Some of them are a marly-clay-sandstone mixture. So does that mean if I plant grapes here I'll get wine just like Napa Valley? What do you think? Of course not. Because there are other factors. Latitude, longitude, mountain formations, angle of slope, amount of sunlight, average temperature, wind, rainfall, and more all contribute to how a grape grows. And we're talking between my house and Napa; but the distance doesn't need to be so great.
There's a very famous hill in the French wine region of Burgundy called Corton. That's the one: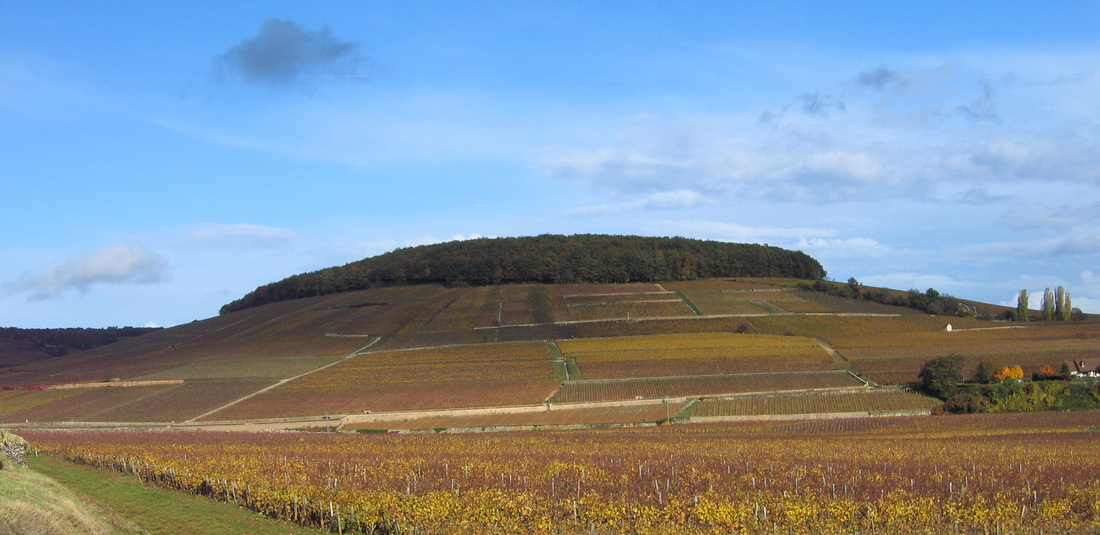 So why is it so famous? Well, it produces some pretty spectacular wine. But it is also an excellent example of how vineyards in Burgundy work. This one small hill is actually split into three main parts. If you take just about the top third of Corton, you'll have Grand Cru vineyards, that is, the best. The middle third is where you'll find the Premier Cru vineyards. And finally, down at the bottom is where the regional or village appellation wine comes from. (Typically in Burgundy the location of Grand Cru and Premier Cru vineyards is reversed with Premier Cru located up-slope and Grand Cru at mid-slope, but otherwise this is pretty indicative of vineyards in Burgundy). What's crazy about this is that wine from the Grand Cru vineyards can sell for upwards of $200 or more while wine made from the Premier Cru vineyards, located just a couple steps away, might only sell for a quarter of that.
In Burgundy this is largely based on tradition and trial and error. Winemakers there have learned over centuries where the best wine comes from. But as far back as the Middle Ages they already understood this. The Church owned most of the land in Burgundy at this time and had their own classification system. The
French Wine Society
, one of the best educational institutions that teaches about French wine, says this:
The specific place where the vineyard is located on the slope determines its potential quality level. In the Middle Ages, the monks segregated the wine made from the vines growing at the top, middle and base of the slope...the wine made from the upper slope was earmarked for the cardinals, the wine made from the middle of the slope was set aside for the pope and the wine made from the vines at the base of the slope was for the bishops.

And since then, the vineyards in Burgundy have always been understood this way. Now I use Burgundy as an example because these vineyards have been around for centuries and winemakers have had time to learn what works best and where. But the same concept holds true for all areas of land. Vineyards are specific and vital to making good wine. Several wine regions, particularly outside of Europe--meaning, those who haven't been making wine as long--have tried making great wine in the winery. And there is no better time to be doing that as technology has made this task more possible than ever. But what I see happening in most of these regions is a return to the same type of system that Burgundy figured out centuries ago that recognizes the importance of place.
Australia has started to recognize this
. Even Napa has talked about ranking their vineyards à la Burgundy. And while many of these regions are relatively young compared to a region like Burgundy, they're well on their way to figuring out how best to utilize their own specific
terroir
.