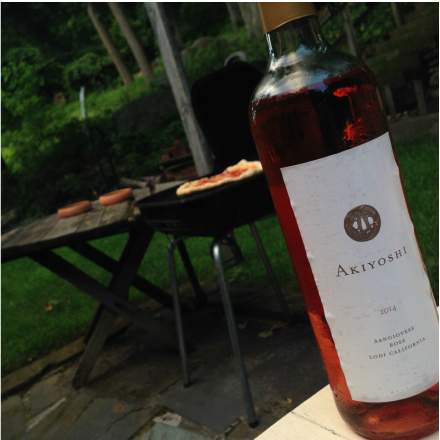 This is the bottle of rosé I drank last night. I've been really into drinking rosé recently. While it's definitely good all year-round, rosé really is a summer wine. It's meant to be drunk young and fresh--so 2014 is the perfect vintage right now-- and it should be drunk chilled, so it's nice and refreshing on hot days, like yesterday. But even though it's chilled like a white wine, since rosé is made from red grapes, it has a lot of red fruit flavors just like red wine. What this does is make a slightly more substantial, but still light, chilled, refreshing wine. This particular wine was a sangiovese rosé from California, which was an interesting choice on the part of the winery as sangiovese isn't a very popular grape in California. But it worked out alright as I thought the flavors in this wine were pretty good. We had it with grilled pizza (you can see it cooking in the background) and it was a pretty tasty combination. Sangiovese goes great with acidic foods like tomato sauce and the brightness of the rosé cut through the weightiness of the cheese and pepperoni nicely.

Rosé is a pretty hot category right now; though I'd like to point out that I was drinking rosé before it was popular. A regular trendsetter I am. Just the other day I was reading in one of the daily wine newsletters I get that sales of rosé have shot up 34% in the past year. I wish I could've invested in rosé sales. And while the majority of these sales come from rosé produced in the French region of Provence (think French Riviera, beautiful country, warm weather, place I'd like to be right now), there is great rosé being produced all around the world. There's even a property in Long Island, Wölffer Estate, that itself has seen a 30% to 40% jump in sales recently.

Now, rosé has been around as long as any other wine, so why the sudden interest? Well, at least as far as America is concerned, we are starting to understand that rosé isn't always sweet. And that's a good thing. Like most wine, the majority of rosé produced is dry, that is, with no remaining sugar. However, back in the 1970's a couple producers out in California stumbled across (almost literally) a wine called White Zinfandel. This was a mass-produced, sweet, pink wine that became synonymous with rosé, or as it came to be called, blush. This style permeated the American market until most wine drinkers associated pink wine with super sweet wine. And while this super sweet blush wine was incredibly popular, it destroyed the market for almost all other rosé wine since they were almost always dry. Imagine drinking from a glass of clear liquid that you thought was Sprite only to discover it was mineral water. Disgusting right? That's what was happening with rosé. But recently wine drinkers have come to learn that not all rosé is sweet, and appreciate dry rosé as a beautiful wine in its own right.

I, for one, am happy for that, since it means a lot of really great choices in the rosé category. If you haven't already this summer, check out a bottle of rosé. Then, come back and tell me what you think. I'd love to hear about it.