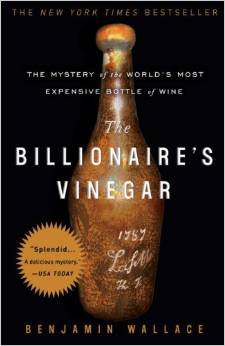 I have finally gotten around to finishing and reviewing
The Billionaire's Vinegar
by Benjamin Wallace. It's not that I'm a particularly slow reader per se, it's more that I get involved in too much and so only find little bits of time here and there to read. Add to that the plethora of reading material I try and keep up on and you'll only find me reading an actual book a fraction of the time. But I do enjoy it when I get around to it.
The Billionaire's Vinegar
,
by journalist Benjamin Wallace, discusses the history, sale and circumstances surrounding the most expensive bottle of wine ever sold,
a 1787 Chateau Lafitte with the inscription Th. J
, presumably for Thomas Jefferson. It was the perfect follow up to another book I recently read:
Thomas Jefferson on Wine
. In that book,
I learned all about Thomas Jefferson's love of wine
and all the bottles he purchased (and drank) on his various travels around Europe.
This plot has all the makings of a Hollywood-style crime thriller: a winning and likeable protagonist in wine auction curator Michael Broadbent, an aloof and mysterious antagonist in Hardy Rodenstock who makes it difficult to decide whether he's a good or a bad guy, charm,
charisma, intrigue, suspicion, debauchery, deception
, and lots, and lots of money. In fact, the true story is so well-fitted for a movie that
it was announced in March that indeed a movie will be made starring Matthew McConaughey
.
However, Wallace's treatment of the story was, in true form to his background, very factual. While the case of whether or not the bottle--which sold in 1985 for $156,000 to the Forbes family--truly belonged to Thomas Jefferson or not is incredibly interesting to any wine lover, it was easy to get lost in the details. Granted, there were a lot of them, but with the constant barrage of characters and introduction of new facts and figures, it was difficult to keep it all straight. And with such a straightforward retelling of the story, there was very little room for suspense that could have made it more interesting. I would have appreciated more insight into the minds of the characters, learning what they thought when a new development occurred or some new piece of evidence was uncovered.
But I guess that's me, to some extent.
I often find the people involved in a particular story more interesting than the story itself.
When I learn about a new winery, for example, my first thought is not about whether or not the wine is good, but what the winemaker or the owner is like. (Of course, it helps if the wine is good.) Though, perhaps that was my issue with this book, maybe I just didn't find the people involved all that interesting. Then again, I don't feel like I got to know them all that well.
As I said, it was quite interesting as a wine lover to find out more about one of the best crime stories in wine. And it seems like there have been a lot of those lately. You can certainly f
ollow the current tales of a similar wine fraudster, Rudy Kurniawan
, or wait for my next review on yet another book detailing one man's attempt to ruin one of the most famous wines ever produced in
Shadows In the Vineyard
.
My goodness, what's with these people? Can't they just drink wine like the rest of us?