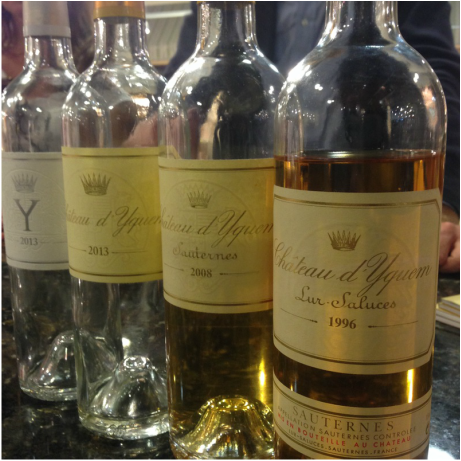 A couple days a week I work at a local wine store,
Gary's Wine and Marketplace
. Just the other week, we had the great opportunity to taste a few vintages of
Yquem
, along with their very small production dry white wine "Y" ("ee-grek", that's the way the French pronounce the letter "Y"). I explain a little bit about Château d'Yquem, a sweet white wine produced in the Sauternes region of Bordeaux in
Liquid Gold: Part 1
. One of the most interesting observations that came out of this tasting was how versatile sweet wine can be. Notice I say "sweet" and not "dessert" as this was something we decided is a detriment to many sweet wines. By labeling them as "dessert" many consumers get the impression that these wines must be drunk after dinner with something sweet in accompaniment.
The same can often be said of sparkling wines like Champagne. Because they are labeled differently than other wines, wine drinkers think they belong in their own category and so don't think to purchase them for everyday drinking. However, these wines, both sweet wines like Yquem and sparkling wines like Champagne are surprisingly versatile and--those who were tasting all
agreed--are very much misunderstood and underdrunk (that's a word right?). It would be a cool experiment--says the wine geek--to see if wines like Sauternes and Champagne would sell better if they were stocked in different places in the store. Perhaps Sauternes should go with other White Bordeaux, or Sauvignon Blancs. And maybe Champagne should be placed next to Chardonnay or Pinot Noir.



One of the most interesting observations that came out of this tasting was how versatile sweet wine can be.
Now I would be remiss if I didn't point out that overlooking the dessert wine section isn't the only thing keeping people from drinking Yquem. At $500 a bottle, I'll probably never be able to buy it. But, there are other Sauternes or similar out there that don't deplete your monthly grocery budget. And while they may not have the same caché as Yquem, they get the job done.
Shelf placement and pricing aside, it was a universal consensus that Yquem would pair beautifully with all kinds of food: from foie gras, a traditional pairing in Bordeaux, to fruit tarts, from spicy Asian cuisine to, dare I say, French fries. In fact, my mouth is salivating this very moment at the thought of Sauternes with herbed-parmesan fries.
Here are some tasting notes:
2013 "Y"
This is my second or third time trying this wine and I've always enjoyed it. While Yquem is typically 75% Sémillon and 25% Sauvignon Blanc, or thereabouts, "Y" is just the opposite. And, they only produce about 10,000 bottles (compared to closer to 100,000 for Yquem). I learned that they started producing this wine in 1959, but during the 20th century only made about twenty vintages of it. That's because it used to be made from the
queue de vendange
, that is, the leftovers. Since 2000, however, this has become a wine in its own right. They pick the grapes for it a couple weeks before Yquem, so there's no (or very little) botrytis, which makes it much fresher with brighter acidity. One of the reasons I like it so much is because it's a very unusual wine.
It tastes almost like a blend between a German Riesling and a White Burgundy;
but it's a clean wine, very fresh, and in my opinion, very beautiful.
2013 Yquem
This is the most tropical of the three Yquems we tasted. And as the rep from the château pointed out, this is pretty typical: the youngest Yquem is almost always the most candied and exotic. There are lots of apricot and melon in this one.
2008 Yquem
This feels a lot brighter than the 2013, and as we learned, this is in part due to the fact the 2008 was a cooler year than 2013, thus the grapes had more acidity. In kind, the wine is a little more herbal with notes more of white pepper, saffron, and honeyed pear.
1996 Yquem
The oldest of the three we tasted, and my favorite. This one has a seemingly perfect balance between tropical, citrus and spice. There are some great bitter notes; I describe it almost like Campari, or bitter orange. There are also some incredible baking spice qualities, think nutmeg and cardamom. By far, I think this is the most complex and as one of us pointed out, I could've just smelled this one all day. In fact, I said someone should probably make a perfume out of it, which of course, someone already has. And a
hand cream
. And, somehow, it costs more than a bottle of Yquem.