A couple months ago I went
Treasure Hunting
and came home with a bottle of
2005 Philippe Colin Chevalier-Montrachet Grand Cru
. I've seen this bottle selling for as much as $200 and I took it for a mere $88; more than half the price for a great bottle of white Burgundy! I had the perfect chance to open it the other night, and so: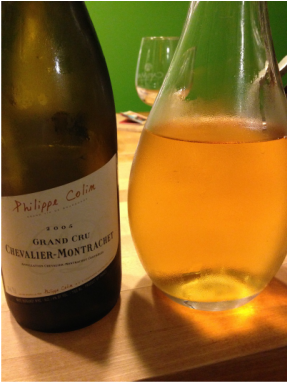 Alas, the wine was utterly and completely shot. As you can see, it was quite brown; far browner, in fact, than it should have ever been. This was the first sign that something was wrong, and an important reminder to always look at what you're drinking. Excessive brownness says the wine was probably exposed to way too much heat. Heat will cook a wine like this quick, and over the past ten years, there would've been plenty of opportunity.

Despite knowing that it would not be a pleasant experience, I had to try it. I'm glad I did, but I was right. It was not at all pleasant. It tasted like a bad sherry: a bit like seawater, thin, flat and fruitless.

Luckily, the store took it back and I got a full refund. I wish I could force them to take it off their shelves, though, because no one should attempt to drink that wine and I shudder to think that someone could open that bottle and think THAT is white Burgundy.