The
Napa Valley Vintners
is one of my favorite groups of people. The NVV is a nonprofit trade association that hosts one of my favorite weeks of the year,
Premiere Napa Valley
. But more than that, they "protect, promote and enhance the Napa Valley appellation" (their mission statement). They run on a lot of different cylinders, from industry advocacy and marketing programs to educational trips and seminars.
It was one such seminar that I attended this past week in the city, the theme of which was "Napa Valley Wines Past and Present." The tasting featured five Napa Valley wineries (in alphabetical order below) and was moderated by Ray Isle, Executive Wine Editor for Food & Wine magazine: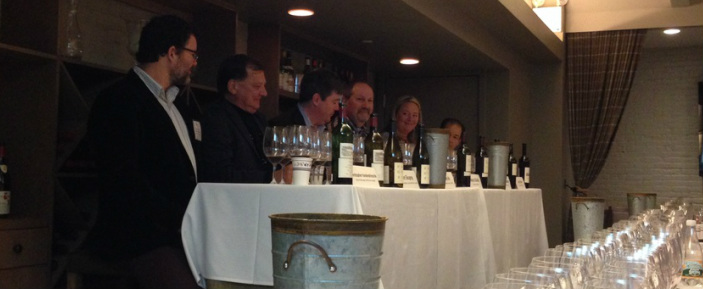 From left to right: Christopher Vandendriessche, John Skupny, Ray Isle, Marco DiGiulio, Allison Steltzner, Larry Stone.
Girard Winery, represented by Marco DiGuilio, Senior Winemaker for parent company Windsor Family Vineyards

Lang & Reed Wine Company, represented by John Skupny, Owner & Winemaker

Quintessa, represented by Larry Stone, Master Sommelier

Steltzner Vineyards, represented by Allison Steltzner, Owner

White Rock Vineyards, represented by Christopher Vandendriessche, Owner & Winemaker

The goal of this tasting was to compare current release wines from each of these producers, with older versions of the same wine. And so we tasted the 2012 (or 2013) releases against some older counterparts. The wines were all Cabernet Sauvignon, except for the Lang & Reed which specializes in Cabernet Franc, and the older vintages spanned from 2008, the Girard, all the way back to 2005, the Steltzner, except for White Rock which was pouring the 1991 vintage.
It's a general rule that I love everything the Napa Valley Vintners produce. I don't know how they do it but they are a high quality, high caliber organization that settles for nothing less than the best. And, there were some pretty good wines on the table when moderator Ray Isle started off by asking, "How well do Napa Valley wines age, and, why do we care?" And so, I was pretty excited about this tasting.
It was definitely a fun afternoon. The group of winemakers, like most I know in Napa, got along really well (they practically grew up together) and kept the discussion lively and informative. But, I'm sad to say, I was a little disappointed at the end of it all. Maybe I've got more experience with Napa wines than most, or maybe I had set my expectations too high going in, but it felt like the questions posed at the beginning of the day weren't really answered. And so, I'll tackle them here.
How well do Napa Valley wine age?
In talking about this event to my brother later in the week, I began complaining and I had to stop myself. I was describing the event and grumbling something about how more of the wines weren't older, like the White Rock. I guess I was hoping for more wine from the '90s, or even earlier, but I had to remind myself, 2005 was ten years ago. And a lot of wine is consumed within the first few years of being released, so even to have something from 2008 was pretty unique. Even I have trouble holding on to wine that long. Try as I might, it's hard to be that patient. Someone needs to invent a calendar sensitive lock that you can set and then it won't open until that date. So it's not like I'm drinking eight or ten year old wine on a regular basis. I can tell you this, though: I wish I were. All of the older wines were drinking beautifully. Across the board, I preferred the older vintages to the younger wines and my favorite wine of the day was the 2005 Steltzner. All of them had rounded out nicely and developed some really great flavors that weren't in the younger wines. Even the 1991 still had life. So in brief, Napa Valley wines age very well.
Why do we care?
This to me is the better question. I remember learning a couple years ago--so this number may have changed, and I'll have to find some more specifics on this stat--that the average time from shelf to glass for a bottle of wine was three hours. Three hours! That means that the majority of people buying wine are stopping at a store on their way home and drinking it that night. And why not? The vast majority of wine that is produced is made to be consumed within two to three years of production. But there are many great wines that develop beautifully over time into something entirely different. It's not fair to generalize that "wine gets better with age", as that is a matter of opinion and each wine is different, but they certainly change. In the myriad of factors that go into making a wine what it is, aging is definitely up there. Everyone should appreciate an old wine at least once in their life. For me, aged wine is something unique and beautiful. I love the taste of a twenty or thirty year old Barolo--when I have the rare opportunity to taste one--but I can safely say it's not for everyone. And fifteen or twenty year old Napa Cabernets can be almost ethereal.
And so, I'll say it again: don't be afraid to try... an aged wine. Though I probably don't have to tell you that since most people jump at the opportunity to taste an aged wine. Maybe more importantly, be patient so that you actually can drink an aged wine.