This one kind of got lost in the shuffle so it's a little late in being posted, but I think still relevant. Enjoy!

It seems like Autumn flew by here in New Jersey, which, after what seemed like a never-ending winter and a hot summer, is more than welcome in my book. Autumn is by far my favorite season. There's something fabulous about the crisp air--something I crave every single humid day of summer--that is refreshing and beautiful. And while I may not love raking the dry leaves on the ground, there's something equally satisfying and almost sumptuous about the way they smell. It's like I can taste Fall; and as a food and wine lover I find that not only attractive, but downright heavenly. Plus, I get to wear sweaters. I love wearing sweaters.

So tonight I donned some comfy pants--c'mon, we've all got comfy pants--a glorious sweater, and headed outside with a glass of this to enjoy the cool weather as long as possible before the night took over: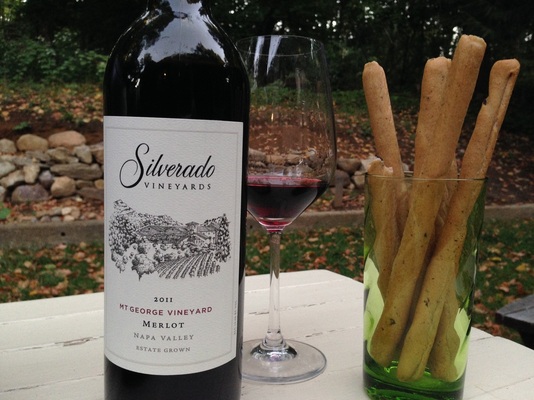 This time of year there's seems to be no end to people recommending "Hearty Wines to Warm the Soul" or "Bold Reds to Keep You Warm." But what does that mean? Are there wines that make you warmer than others? And what is a "hearty" or "bold" wine?

As far as I'm concerned, there isn't any objective definition of what is "bold" or "hearty." It's one of those wine descriptors that is pretty subjective; think of it like spicy foods. Some people can't stand a dash of pepper while others can casually munch on Carolina Reapers like they're celery. Bold wines are, at least theoretically, full-bodied, rich wines with lots of flavor and character. But bold to me might quite possibly be undrinkable to you and bold to you might be light and refreshing to me.

However, there are some character traits in wine that can point to a wine being bold.


1. Lots of tannin. Tannin is that grippy, sometimes gritty quality in wine that can dry your gums out in sufficient quantities. It's an important component in all wine that comes from the skins, seeds and stems of grapes. Because of this it's more prevalent in red wine overall, and some red wines more than others.


2. Darker fruit flavors. Just like blackberries have deeper and darker flavors than raspberries, wines that taste like blackberries have deeper and darker flavors than those that taste like raspberries (or strawberries of cherries...). You get the picture.

3. Earthy or "animal" flavors.

Take a look at Ann C. Noble's "

Wine Aroma Wheel

"

(you can also do a Google search) and you'll see I'm not crazy here. Animal flavors are things like leather or musk and earthy flavors range from mushroom to cedarwood.

4. High octane.

While I think this is the least scientific of the "bold indicators" wines with higher alcohol content can often be perceived as bold. I'd argue this is for two primary reasons. One, the higher the alcohol, the warmer the feeling you get going down. And two, alcohol content directly correlates to a wine's body; that is, the higher the alcohol content, the more full-bodied a wine is.
Given all of this, it's pretty easy to see why certain wines are often included in the "Wines for Fall" arsenal. Some common contenders like Syrah, Carignan and Cabernet Sauvignon are all high in tannin. They also tend to have darker fruit flavors. Others like Garnacha and Zinfandel are very often made into high alcohol wines.

Me, I never like to discriminate when it comes to wine, but Merlot always feels like a good fit when the weather turns cooler. Cabernet Franc, as well. I like the richness these wines provide while still maintaining a good amount of freshness and acidity that make them good for pairing with Autumnal foods.

So put on a sweater and try some hearty wine this fall. At least then I won't be drinking alone in my comfy pants.