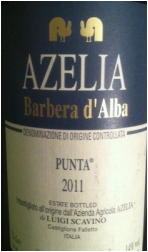 Had the opportunity to taste the Azelia Barbera a'Alba Punta the other night. It was great to taste a wine from one of the wineries I visited a few years ago. As far as barberas go, this one is pretty incredible. Juicy and drinking beautifully, but more structure than a lot of barbera I've had.
Definitely worth picking this up if you find it, especially for around $20.
To read more about Azelia,
click here
.