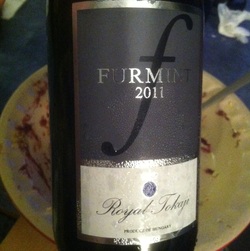 Known for its sweet Tokaji,
I was expecting this offering from Royal Tokaji to be tart or astringent. Instead, it is refreshing and enjoyable. Not incredibly flavorful but beautifully drinkable. I was shocked that it is 14% abv (I would have guessed only 12%). Went just as well with fettuccine, ham and peas as it did with berry pie because it had decent acidity, nice citrus and stone fruit (apple, pear, peach) flavors.
Tokaji, as a sweet wine, is one of the best botrytized wines available. From Hungary and made from the furmint grape, it's a bit less well-known than Sauternes., but can be equally rewarding. This is a rare example of a dry style Tokaji. Definitely worth trying if you get the opportunity, but even the back label of this wine says it is rarely seen outside of Hungary!