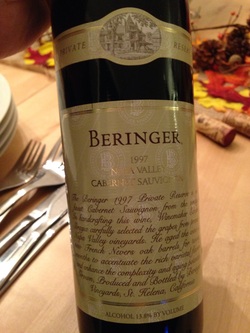 There's a wine store near me that I like to go into every so often because I've found some great bottles there. I can't afford to go in all the time, because when I see something good, it's hard for me to pass up. But I was in there the other week and came across this bottle, and, of course, I couldn't pass it up.

I'm a sucker for older vintage wine, especially ones that are from a good vintage, and seem to be in good shape. And at half the price that they should be at. I usually don't pay too much attention to scores and reviews, but when it comes to older wines, where I don't have as much experience, I like to at least get a guideline to what I might be getting into. For this wine, famed wine critic Robert Parker said when tasting this wine in 2011, "A bountiful, nearly perfect crop of consistently high quality grapes was created by flawless weather with moderate, but steady temperatures throughout the summer and beautiful weather in September and October. The result is a great vintage in both quality and quantity...the 1997 exhibits wonderful plum, blackberry, cedar, spice and subtle smoky oak notes, a gorgeously opulent texture, full-bodied power and hints of roasted espresso and white chocolate in the flavors. This beauty can be drunk now and over the next 12-15+ years. One of the all-time great Beringer Cabernet Sauvignon Private Reserves." He gave it 95 points on his infamous 100-point scale.

Going in, I knew that the 1997 vintage was one of the greats in Napa. People still talk about it in hushed tones. It was plentiful but still had excellent quality. I expect 2013 to be of similar ilk. And I must agree with Mr. Parker in many respects on this wine. Even three years after his review, this wine still had luscious plum and blackberry fruits. The tannin had mellowed a bit, but the color was vibrant, not at all tinged with orange or brick (a sign of oxidation) and the finish did speak of roasted espresso; and I would add leather as well. And I must also agree on the age-ability of this wine. It still tasted very youthful. I think there's probably another 5-10 years in this wine.

I love finding wines like this. And while buying older vintages can be a bit risky since it's hard to know how the wine was stored or whether the wine is still any good, with a small amount of research in hand, I think it was well worth the risk.