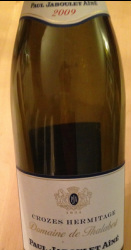 Back when this wine was released in 2011, I bought a bottle to see what it was like. At the time, it was a little more than I would typically spend on a bottle, so I remember thinking it was a stretch. But I bought it sort of as a Christmas present to myself and we drank it with Christmas dinner, which in my house was always flank steak.

Even in 2011, I remember being incredibly impressed with the wine. It was bold and peppery, and yet elegant. At that time there was quite a bit of structure and the tannins were still pretty powerful, even after being decanted for a forty five minutes to an hour. So I knew that while this wine's flavors impressed me then, it could only get better. Shortly thereafter I bought four more bottles.

My goal was to hang on to these four bottles for a while and see how the wine evolved over time. Since it's been one of my favorites so far, I wanted to savor it. But I've always been a little impatient, and we opened this bottle (the third) just the other night. I'm glad we've been drinking it, though. I definitely have bottles that I want to hang onto for a while--some 2006 Châteauneuf-du-Pâpe, a 2004 Barolo Reserva, a 2009 Sauternes. But there's something to be said for drinking while the drinking's good. Or, as my father-in-law would say, "Life's uncertain. Eat dessert first."

True to my first taste, this wine has loads of black and blue fruit flavors like blueberry, black cherry, plum and blackberry. But, there's also a proper amount of pepper and spice character along with some earthier flavors like mushroom and leather. I could keep going, which is something that makes this wine so good. This is made from 100% Syrah, which my wife commented she doesn't always like. In fact, we had drunk a South African rendition just a couple nights before and neither of us were crazy about it. There was something too fruity and maybe a little sweet that wasn't pleasant. But this was much more well-balanced and enjoyable. It was like a completely different grape. We drank it alongside some wonderful roast chicken and purple potatoes. It was an excellent pairing.

I plan to tuck the last bottle away and hold onto it for a little while. I really do want to see what it'll be like in 5, 10 or even 20 more years. We'll see if I can make it that long, but I hope I do. There's something unique and special about seeing a wine change like that over time. Some things really are worth the wait.