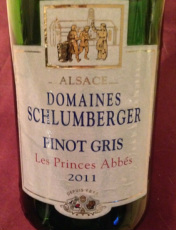 For the past year, I've been studying the wines of Alsace. I enrolled in a class from the French Wine Society so that I could become a Master in Alsatian wine. Whenever participating in something self-study like this, life tends to get in the way, I tend to procrastinate, and so here we are a year later and I'm finally getting ready to take the test. While there's no tasting portion of this test (it's all online), I am doing my part to brush up on what the wines of Alsace taste like.

I've learned a lot about geology and soil types, grape varieties and vineyards locations, producers and styles. One of the producers I've learned about is Domaines Schlumberger. And so, I went out searching for some wine. Unfortunately, Alsatian wine is pretty hard to come by around me. Not many stores carry a good selection and so I'm often left yearning for more. I will probably resort to attempting to order wines that aren't regularly carried in order to broaden my exposure, something any good wine store will do.

Domaines Schlumberger is in the category of independent winegrower. What this means is that the company itself manages the vineyards from where they get their grapes to make their wine.The other two categories are négociant, someone who buys grapes from other people in order to make wine, and coopéatives, or multiple companies that operate under one label. Each of these makes up about a third of the total production in Alsace. Within their category or independent winegrowers, Schlumberger is by far the largest. They manage over 300 acres of vineyards throughout Alsace. Most winegrowers control under 100 acres.

The wine that we are discussing here is a Pinot Gris. Pinot Gris is a pretty important grape in Alsace. It represents a little over 15% of total production--fourth largest--and is one of the four "noble" varieties. This means that it is recognized as one of the traditional high quality grapes and can be used in Grand Cru bottlings.

This, however, is not a Grand Cru. In fact, I haven't found any Grand Cru Alsace wines in three of the four wine stores I've been to in the past six months. Like I said, hard to find. Regardless, it was a nice bottle. It's a touch off-dry (meaning just a hint of sweetness) and has lots of floral and honey notes that were very pleasant. Personally, I would've preferred a bit more acidity to balance out that small amount of sweet, but that's just me. It had a nice amount of tropical and stone fruits as well like melon, guava, and peach. There's also a perceptible spice character to this wine that I found intriguing. I tasted savory spices like nutmeg, caraway, and black pepper.

For just a "plain" AOC Alsace wine, meaning not Grand Cru, I was pretty impressed. This was very pleasant and I'm glad I've been able to find at least a few Alsatian wines to help me in my educational pursuits.