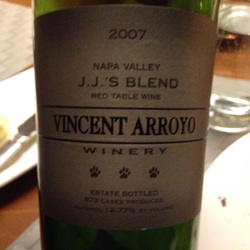 This past weekend we were up in Massachusetts visiting my mom and sister and her husband. We were pretty busy helping my mom move into her new house, celebrating her birthday, and meeting my new nephew, Walter Seamus, for the first time. But it was all good stuff and I'm excited to go back for our next visit.

While there, my sister and her husband were gracious enough to share a great bottle of wine with us. They'd been saving this since their trip to Napa in 2009 so it was nice of them to include us when they finally opened it. The bottle was the 2007 JJ's Blend from Vincent Arroyo Winery. I'm familiar with Vincent Arroyo, but can't recall ever tasting any of their wines before this one. They're located in Calistoga, on the north end of the Napa Valley and specialize in producing petite sirah. While I couldn't find a breakdown of the 2007 vintage, the current release of this wine is a blend of cabernet sauvignon and cabernet franc.

My sister and her husband had been saving this wine until 2015 because when they purchased this bottle at the winery, they were instructed that this was the proper time to drink it. I think the winery was pretty accurate. While I'm sure this wine would have tasted fine in its younger days, by letting it age a little bit, I think the wine became more balanced and more enjoyable. This is one of the beautiful aspects of wine: that it changes with time and while the old maxim "wine gets better with age" is not always true, it often is. Something I love about aged wines is the flavors that you can't find in young wines. There tend to be more earthier and cooked fruit flavors that are either overpowered by the ripe fruit in young wines, or just aren't there. With time, some of that fruit dies down and is in greater balance with the other characteristics of the wine. Additionally, the tannins that are so prevalent in many young wines, and that many people find alarming, tend to soften and also become more balanced.

I understand that it may be a little challenging to understand what I mean by "more balanced," and it is a bit of a complicated concept, but essentially what I mean is that the flavors and components of the wine work well together. It's not too acidic or too tannic. It's not too fruity or too earthy. And it's not too bold or too flabby. Everything is just right. And this is something that really is best exemplified in properly aged wine. And that's why so many wine reviews say, "Best between 2015 and 2035" or whatever the time frame might be. They want you to wait until the wine is at its best so you can truly appreciate how good it can be. It's not always easy to get these dates right, but when you do, it's a wonderful thing.