It's safe to say
my parents were never big wine people
. But sometime in high school, my sister and I came across a box of old, empty wine bottles. It didn't seem likely that these could be my parents' wine bottles, so we asked. Turns out, they were. They had saved all the bottles of wine they drank on their honeymoon in Italy. There were only about 15, probably one for every dinner, maybe a couple from lunch. It seems unlikely to me that my parents had been able to finish a whole bottle of wine between just the two of them during the course of a meal, but here was the evidence.
I thought it was a pretty cool thing and would be a fun Christmas present for my parents to be able to display these bottles. So my sister and I decided to buy them a wine rack that year. We found something tasteful and ordered it. It came and we assembled it. We filled it with all their empty bottles and sometime after that, a few full bottles made it to the rack.
I'm not sure where the bottle of Tosti Asti Spumante came from, but when my mom saw it this past weekend as we were helping her pack she said, "Oh. That could be from my wedding!" My parents were married in 1974. However, upon learning it wasn't German sparkling wine, she decided it couldn't be their wedding sparkler. Still, the fact that she thought it might be from her wedding, led me to believe this wine might have some age to it.
I immediately told my mom this bottle was not worth opening. That we should save it for posterity, or something like that. But she insisted we open it that night. And why not? After all, it wasn't getting any better. We might as well open it and see what it was like and be rid of it. One less thing to pack. So I put it in the fridge, and later that night, we opened it.

The sign of age was apparent from the moment I took off the foil; there was a little bit of visible wear around the cork cage. Then, when trying to pull the cork out, I noticed a slight release of pressure as soon as the cork started to move. Not a good sign as this most likely meant the seal wasn't airtight. The cork took some more finagling, and broke off as I tried to pull it out. But the remaining little bit was easy enough to pry out and then we were at the wine.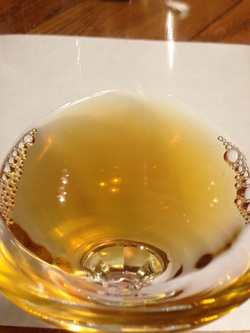 It was golden in color with a tinge of brown, especially around the edges. More bad signs as I know this is much darker than wine like this should be. But, the bad signs stopped there. The aroma was more than reminiscent of moscato, the grape from which Asti is made. It even reminded me of a botrytized dessert wine. And, on the palate, there were flavors of candied orange, honey, ginger, golden raisins and dried fig. There was a bit of an uncharacteristically sherry quality, a little oily and oxidative, but this was by no means overwhelming or unpleasant. For a potentially forty year old wine that is normally drunk within five years, I was more than impressed. So while I don't expect this to be a normal occurrence, I guess it's fair to say I shouldn't judge a wine by its label?

Upon a little closer inspection, I noticed that this bottle had the standard government warning and "contains sulfites" disclaimer, two things that became standard practice only in the late '80s, so this bottle was probably younger than I had originally thought, but still an interesting find. Moral of the story? Don't be afraid to try something new (or old). You never know what you might find.