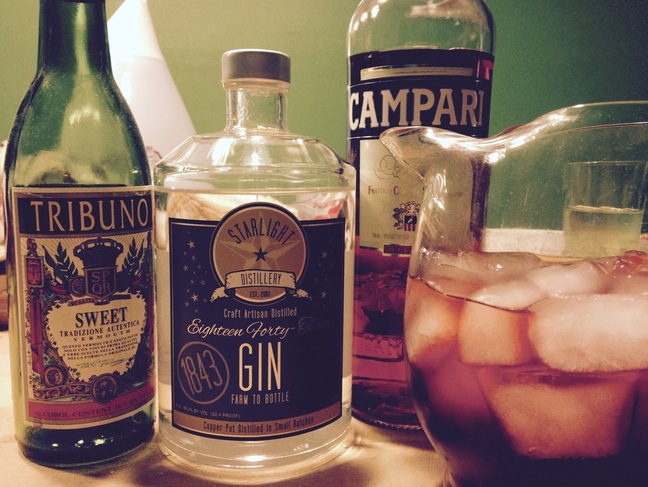 It hasn't been that long since I've been drinking negronis. I remember first hearing about them about four years ago from a friend in the drinks industry. This was about the time I was really starting to experiment with mixed drinks so I was all ears. I already knew I was a fan of gin, so this seemed like a perfect drink for me. I bought the necessary ingredients and I wasn't disappointed. Not even close. And this week is Negroni Week so what better time to celebrate this wonderful drink.
A negroni is a great bitter cocktail that is traditionally comprised of equal parts gin, campari, and sweet vermouth. I say bitter, because both campari and sweet vermouth--despite its deceptive name--are "bitter" ingredients meaning they are not sweet. Bitters are usually made from some type of alcohol that is then infused with various herbs and spices to achieve the desired flavor. Because they tend to be more herbal or botanical in flavor, there are very little sweet components and therefore the flavor is perceived as bitter. Often these are mixed with other ingredients to tone down the bitterness, but in a negroni, it is a main component. Let's break it down a little.
Campari
is a bitter liqueur from Italy that uses both herbs and fruits in its production. It has a notable orange character to it, and a color to match. This is not only used for negronis, but americanos, and very commonly in Italy, Campari soda. Campari-based drinks are common in Italy, especially Northern Italy. I remember being there in 2012 and finding a small little deli for lunch where we were in the company of 8-10 elderly men who were drinking some sort of Campari concoction from a pitcher as part of their midday break.
Sweet vermouth is a sweeter version of vermouth, which is basically wine infused or aromatized with herbs and spices. But, sweeter is still not sweet. Apart from negronis, sweet vermouth is used in Manhattans most notably, while dry vermouth is a component in most Martinis. In France and Italy, vermouth is often served on its own as an aperitif. I chose
Tribuno vermouth
, primarily for the cost and because it comes in a small bottle and I don't use sweet vermouth that often. Since it is technically wine, vermouth can spoil after a couple months.
And finally, gin is a distilled spirit whose primary flavor component comes from the juniper berry. Some gins are more aromatic than others and I prefer those that have a bit more character. I chose
Starlight gin
, a new one for me, but something that I was eager to try. It was a good choice as it is more fragrant and flavorful than some other gins I've tried. There has been a boom recently in small batch gin production so there are more and more great options out there.
So grab some Campari, vermouth and gin and make up some negronis. Or find a good bar in your area whose bartender will know what this is and have them make one for you. They're great as an aperitif before dinner. Or if you're a 60 year old Italian man, they're great any time.
For more about negronis, check out
negroniweek.com
or follow the action
#NegroniWeek
.