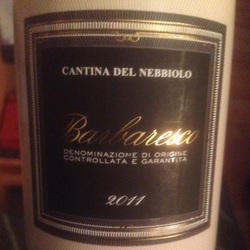 After the holidays, I'm a little low on my stock for drinking at home so I was looking for something quick to grab from the store tonight. Since I've been drinking a lot of Italian red recently, I looked there first and found this bottle. I'm a pretty big fan of good Barbaresco wine, named for a village in the Piedmont region of Italy, but was skeptical about this for only $18. Most Barbaresco wines are upwards of $30 minimum, with the best topping out at more than $200 a bottle.

A quick Google confirms my suspicion that the Cantina del Nebbiolo is a co-operative. This means that many different growers bring their grapes to one facility to be bottled under a single label. It's actually a pretty nice concept, giving growers a little bit more control and power over what happens to their grapes. Many times, if growers don't receive good contracts for their grapes, they are forced to sell them off for cheap as bulk wine. Alternatively, they can sell them to something like a co-op which is somewhere in between.

For a co-op wine, this was very reasonably priced and decently good. It's a bit thin for Barbaresco but there is plenty of cherry, chocolate and earth notes. Lovely for more of an everyday wine. Definitely not a bad pick.