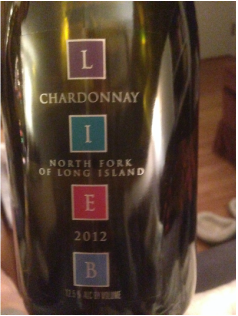 A good friend of mine is the wine club director at a retailer I work with, Gary's Wine and Marketplace. I don't subscribe to the club, but I still like following his selections. While they all tend to be pretty interesting, this past month I noticed one that I had to try.

I'm always looking for really good local wines. Usually that means California, and very rarely New Jersey. This time, local happens to be New York, a state that has been growing in popularity for its wine production. Most of the attention these days is focused on the Finger Lakes, though there's been some chatter about Long Island, in particular the North Fork.

This bottle caught my attention quick as I've known of Lieb Cellars for a while, but haven't tasted any in quite some time. So I was curious to see what they were up to these days. I was pretty impressed right off the bat as it is a well-developed, nicely balanced wine. They use a blend of stainless steel and French oak to make this wine that has added a bit of complexity.

For a $20 chardonnay from New York, it certainly wasn't what I was expecting and definitely worth the buy.