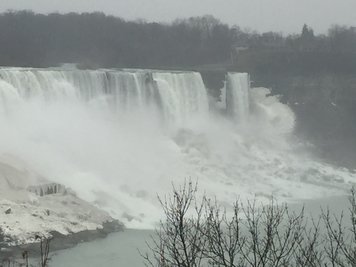 "Ooh, that sounds fun. I've always wanted to know how they make ice wine." That was the response I got when I mentioned I was heading to Canada to visit a winery. Understandably so, given that this was the view I got on my way up there. And, I knew I was taking a risk flying to Buffalo in January, which gets an average 25 inches of snow during the first month of the year. ​I wasn't quite sure what to expect but tasting a lot of ice wine seemed likely; after all, that's what the Niagara Peninsula is known for, right? In reality, of the 22 wines I tasted during my visit to
Cave Spring Cellars
, only one of them was an ice wine, and we really only tasted it as an afterthought.
I met Tom Pennachetti just before lunch on a Thursday. The flight had been brief--shorter than my normal commute in fact--and the drive fairly straightforward (though I was a little surprised they had let me into Canada so freely, this being the day before the inauguration of the president who's election had caused such an interest in moving to Canada that the Canadian embassy site had crashed). We went over some business, case depletions and sales incentives, etc. and then Tom took me on a tour of the winery. I learned a little about their family--Tom's father started growing grapes in the late 1970s and founded the winery in 1986 with Tom and his brother Len. Shortly after, winemaker Angelo Pavan joined the team as well. Tom's wife is even involved. At this stage, most winery tours are fairly similar. This is a stainless steel tank, this is an oak barrel, and so on, so I look for the anomalies, the things that stand out. And on this tour, that didn't take long.
One of the first things Tom showed me was their wastewater treatment room. That's right, they have their own wastewater treatment room. They use a system that reduces the biological contaminates of their wastewater by as much as 99% before being reintroduced into the municipal water system. While definitely cool and unique, this probably was a lot more interesting to someone who knows more about microbiology or engineering than me. It was the barrel room that got me excited. Barrel rooms are almost always my favorite part of a tour, but it was here that Tom showed me that not only were they using some tonneaus for their wines (a 600 liter barrel as opposed to the typical 225 liter barrel or barrique) but they had just ordered some foudres (1000 liter or more barrels). These kinds of barrels are pretty traditional in regions like Alsace and most of Germany for storing white wines like riesling, but most other regions just use stainless steel tanks. Using a large barrel like this, however, tends to produce a slightly softer, rounder wine with some of the more austere characteristics taken away. Cave Spring is also aging their wines in these vessels on the lees (the dead yeast) which also adds complexity and weight.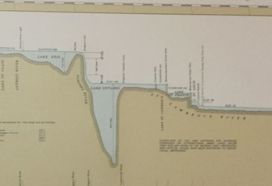 We talked a lot about geology and geography, some of the most important factors in grape-growing, as well as the temperature moderating effect of Lake Ontario (large bodies of water keep year-round air temperatures more consistent). We looked at a bunch of maps, another favorite of mine, but all of this was just prep for our visit to the vineyards that afternoon where I got to see what we talked about. First, however, we ate lunch at the restaurant they also operate in town, the star of which was the creamy, velvety, butternut squash soup that was perfect for that chilly day. And we accompanied it with their Brut NV sparkler made from 100% Chardonnay, a lovely pairing.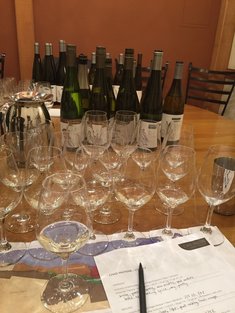 After touring the vineyards we tasted through the majority of their wines, 17 in all, which allowed me to see the vast differences there can be despite all being made at the same winery and coming from the same small region in Ontario. Being a cool climate region, 78% of what Cave Spring produces is white wine. Of that, over 50% is dedicated to riesling, so its no surprise that we tasted more riesling than anything else. While they make a very interesting cabernet franc, a pinot noir that's nothing to shy away from, and a fun gamay, riesling is clearly the star of the show.

Of these, they have a couple regional wines and then some estate bottlings, coming from vineyards they own entirely. These are up on the Beamsville Bench, at the top of the escarpment and therefore have a particular soil composition as well as better drainage and sun exposure; really all the things that make great wine great. Something super interesting about the soil--well, at least to me--is that these soils up on the Beamsville Bench are limestone rich. So much so that one of their wines is even dubbed "Dolomite" a nod to the dolomitic limestone, a calcium rich white rock, found in the region. Limestone almost always produces great wine. And this limestone comes from how the Escarpment was essentially carved out a long time ago exposing these premium soils.

All this made for some pretty spectacular wine. My favorite of the trip was hard to pin down as there was a bready sparkling NV blanc de blancs, a sensual and balanced 2015 Chardonnay Estate, and an herbal and silky 2014 Cabernet Franc Estate. But the showstopper for certain was the puckery 2015 Riesling 'Adam Steps' followed closely by the steely and floral 2015 Riesling CSV. Both of these wines were beautiful and elegant now but have no doubt a long life ahead of them. The flavors kept unfolding and the depth was purely enjoyable. To be honest, far better than anything I expected out of the Niagara Peninsula.

​And, oh yeah, their ice wine was pretty good, too.