After spending the weekend exploring Colmar and driving through wine country on a beautiful sunny day, we had two more wineries to visit. First up, Trimbach. We were greeted by Jean, twelfth generation winemaker. Since we had also just visited Hugel, another family affair, I was interested to see how the two compared.
Jean is more or less the face of the company, focusing on sales and promotion while his brother Pierre, takes the lead on production. We learned that while Trimbach has been in the wine business since 1626, when another Jean moved to Alsace. However, the winery really took its modern form at the end of the 19th century when Frédéric Emile (I know, the amount of Jean's and Frédéric's didn't confuse me at all either) really catapulted the winery into the limelight. He was awarded the highest distinction at the International Wine Fair in Brussels. He's the one who moved the winery to the current location in the town of Ribeauvillé. Prior to that they were making wine in Hunawihr and before that, Riquewihr.

Since then the winery has only expanded its international acclaim and can be found not only in France, but the United States, Brazil, South Africa, Thailand, Singapore, and the list goes on. They're Cuvée Frédéric Emile Riesling is also on 25 of the 26 Michelin 3-star restaurants in France. The King of Sweden even visited and worked in the vineyard and their wines were poured at his daughter's wedding.
​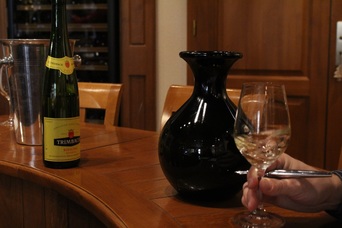 We tasted a whole bunch of wines here, too, from Pinot Blanc to late harvest Gewurztraminer, including a new Riesling cuvée called Sélection de Vieilles Vignes. There wasn't a bad one in the bunch, and it was a treat to taste their crème de la crème, Clos Ste. Hune. This wine has been called the "Holy Grail of Alsace" and the "King of Rieslings." And there's no doubt in my mind why. It was layer after layer of flavor, like a millefeuille. You know that French cake that has like, well, a thousand layers? That's what this wine felt like in my mouth. There was lemon zest and acidity, orange zest and a wonderful saline quality. But I could tell this wine will be best in another 10, 20 or even 30 years. In fact, Jean mentioned that he had opened a bottle of the 1962 just last year and it was absolutely fantastic.

One of the really interesting things about this wine, however, is its appellation: AOC Alsace. This wine comes 100% from the Grand Cru Rosacker, but you won't find that anywhere on the label. Clos Ste. Hune has been made for over 200 years, but the Grand Cru system has only been in place for 40 years. Families like the Trimbachs believe that their wine essentially precedes the Grand Cru classification and thus the name "Clos Ste. Hune" carries more weight than "Grand Cru." In this instance, they're probably right. But the real issue, which I spoke with Jean about, is that the Grand Cru system isn't good enough. It's too loose and doesn't have enough control. He told me that he once saw a Grand Cru wine for sale in a grocery store for only five euros! That's way cheap. He believes that massive reforms really need to take place in order to protect the name Grand Cru so that it is reserved for wines of true quality. In that same spirit Jean is also against the current movement to implement a Premier Cru (a level just below Grand Cru) that would mimic Burgundy. He figures what good is another useless classification. Why not fix what they currently have in place before introducing another level.

I think he's probably right. I'd rather see the current system get fixed before they make any other changes. And as much as I'd love for all Grand Cru wines to be five euros, I'd rather know that the wine is going to be good.