"We recommend it also by itself, as the ideal meditation wine." This is the description Cesari gives to its 1997 Bosan Amarone.
"An ideal meditation wine."
​
I'm not sure I've heard a better description for a wine. A wine perfect for sitting quietly, contemplating inner peace and seeking a higher understanding. That's the kind of wine I want to drink. And the other night, I was able to do just that. Along with eleven other people, I was invited to drink this wine alongside a great meal. The wines being showcased that night:
2012 Cesari Amarone della Valpolicella Classico
2007 Cesari Amarone Bosan
1997 Cesari Amarone Bosan
This was not a meal for the lighthearted. The food was spectacular as well, but the wine shined. And these are all big, bold and yet elegant wines. I tend to think of Italian wine as having a certain earthiness to it. I often find flavors of dried orange peel and cherry and sometimes leather or tobacco. And while you can sometimes get this out of Amarone, it has a much more fruit-forward nature.


Cesari, founded in 1936 (meaning they're celebrating 80 years) by Gerardo Cesari, is located in the Amarone della Valpolicella zone of production of the Veneto. Amarone has certainly changed in 80 years, not the least of which is that production has drastically increased in recent years. In fact, in 1990 there was just a little over a million gallons being produced and just a over a decade later there was three times as much. The process for producing Amarone is a little different because they use partially dried grapes which gives the wine more body and a unique, slightly raisin-y character.

Traditionally the grapes are harvested and then dried on large straw mats in well-ventilated barns. The process has been updated a bit, producing a cleaner, more correct wine that has less chance of develop mold or rot, but the general concept is the same. Pick the grapes, let some water evaporate out and then continue with the winemaking process. Allowing water to evaporate concentrates flavors (because there's less water diluting them) and also decreases the weight (again because there's less water). That means that it takes even more grapes to make the same amount of Amarone wine. This whole process that is a bit more labor intensive and requires more raw material does increase the cost of the wine a bit; but you can still find some great examples under $50.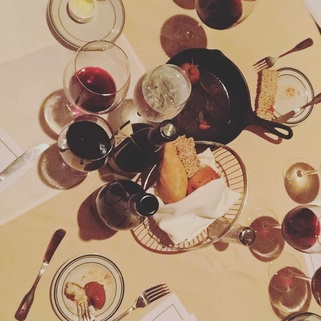 The goal of the dinner was to highlight the wines of Cesari, and in the process, maybe learn something about Amarone. I, for one, did not know that Amarone had single vineyard production. It's becoming more and more common around the world, but Cesari has been doing it for a while, so it's not some fad. Their vineyard holdings have been fine-tuned over the 80 years that they've been around. The Bosan is just one of four single vineyard wines they make. And it's definitely something spectacular.

In fact, the 1997 was one of the youngest old wines I've ever tasted. Despite being almost twenty years old, this wine was fresh and vibrant, with almost no signs of age. There were plenty of red fruit notes: strawberry, cherry, even a little cranberry, and lots of good acidity. Some of that could come from the fact that the Bosan vineyard has a lot of volcanic soil, something that I think tends to make wines that are incredibly long-lasting (like some of the great wines of Alsace). I could see this wine still being good in another five or maybe even ten years. At the very least, it is without a doubt a wine that would aid in meditation.