It looked like a normal farm stand, buzzing with all sorts of people, extra busy because it was CSA pickup day. The open walls let in the fresh, sweet summer air. There were blueberries and peaches, beans and peppers, the smell of doughnuts wafting from the back.
And a wine bar at the back.
This was Dreyer Farms in Cranford, NJ. It's one of several outlets where
Tomasello Wines
sells its wines and I was there to taste.
​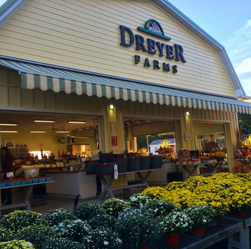 New Jersey laws around wine sales can be pretty complicated--and difficult--but this is one law that works in favor of New Jersey. Turns out, NJ wineries are allowed to set up retail outlets at a few places around the state in order to sell their wines direct to consumer. This was the first time I'd seen it and it seemed like a perfect fit. After all, wine is just another form of produce. I was there with Danny Klein, Regional Vice President for the American Wine Society, who I had just interviewed, and he had to pick up some wine but we figured while there, we might as well taste.

​We were hosted by Nadine who was absolutely honest and helpful; we were happy to be interrupted by her frequent visitors who either wanted to taste as well, or were there to pick up their monthly wine selections (part of a wine club partnership they have with the CSA). And despite being relatively new the wine business, she knew what she needed to, had a great attitude (half the battle in sales) and was super willing to learn (most of the rest of what you need in sales--at the end of our tasting she asked, "So what am I doing wrong? I'd love for you to critique me.")

We tasted two whites, a riesling and a rkatsiteli (a strange Georgian variety, the country, not the state), and a smattering of reds. The wines were mostly ok; the whites had ok acidity and decent fruit. The reds mostly had too much acidity, which translates to fruit that didn't quite get ripe with lots of earthy and sometimes vegetal flavors. I'm actually pretty all right with this style of wine. Bordeaux used to taste a lot like this, though has gotten more expressive over the past couple decades. However, this isn't a popular style of wine right now. Bordeaux changed their style through a combination of changing climate, better technology, and a better understanding of the land and grapes. We can control two out of three of these, so New Jersey will most likely be able to improve, but as always Mother Nature is that, quite big, unknown variable.
There was one wine, however, that quite surprised me: the
2013 Palmaris Petit Verdot.
Despite the sweet and delicious smelling doughnuts, of which I probably should have bought some, this wine was deeply aromatic. Lavenders, sweet tobacco, and vanilla poured out of the glass. And there was plenty of flavor, too. Smokey plum and blackberries, chewy like I expect petit verdot to be, but not inky like many of them are. I thought it was really well balanced and had a great, long, silky finish. Palmaris is the high-end line of Tomasello, so I was hoping it would be good, and it didn't disappoint.
Maybe Petit Verdot has a good future here
in the Garden State. It is a hardy variety and resistant to mold. It's dark, weighty flavors make it good to pair with game and lamb, or grilled foods, but it's propensity to be a little on the jammy side makes it good to pair with spicy foods as well. I'll be looking forward to tasting this wine more in the future, and hopefully finding other petit verdot bottlings from New Jersey. And if you get a chance, you should definitely pick up a bottle of this as well. It's not cheap, $50 a bottle, but this may be one of the few NJ wines that I think might actually be worth that.
Thanks again to Nadine for a great tasting and to Danny for taking me along for the ride. Santé!
Have you ever had any cool, unexpected wine experiences like this? Leave me a comment and tell me about it.
​​