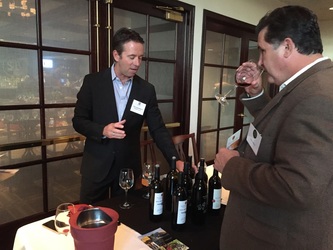 One of the things I love most about the wine business is not actually the wine. Of course, that's good, too, but some of the most rewarding experiences I've had have been because of the people, not the wine. This past weekend I helped organize an event for a retailer that brought in several winemakers from Napa Valley to pour and promote their wine. Most of them I had spent time with before, and I was glad to get to do so again.
First, there's
Tom Leonardini II of Whitehall Lane Winery
in St. Helena. Tom is like the quintessential California guy. He's laid back, calm, cool and just wants everyone to have a good time. But he also knows his business and knows how to get things done.
​
Then there's
Stephen Corley of Corley Family Monticello Vineyards
.
Stephen and his brothers run their family winery that their dad started forty years ago. Stephen's a business and salesman and is super friendly. He's the kind of guy that would be a loyal, lifelong friend.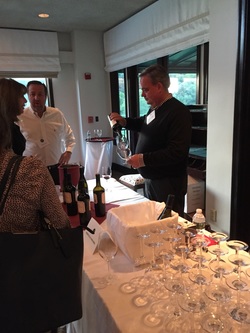 Next there's
Fiona and Hal Barnett who own Barnett Vineyards
. They are some of my favorite people in the wine business. They are warm and generous and I think in many respects, remind me of my wife and I. They love welcoming people into their home, love good food and wine, and love to travel. In fact, in planning for this event I also shared recommendations for visiting Quebec as they'd be coming straight from there to the wine tasting. Their winemaker, David Tate, (and his wife) are also really fun people.
And there's also
Brian Brown of Emerson Brown
. I don't know Brian that well, although this was the third time we'd seen each other in the past three months or so. He's definitely on the rise in the wine industry, though. He was working for a great winery, Vineyard 29, before starting his own project with friend Keith Emerson. In addition to Emerson Brown in Napa, he's got a project in Paso Robles called Onyx which I'm fascinated by. I'm pretty excited to see where Brian's career is headed.
And finally, there's
Miles MacDonnell, owner of Round Pond Estate.
I've gotten to spend a decent amount of time with Miles over the past year or two as he's been involved in many events I've been a part of. And his winery has become one of my favorites in Napa. I think Round Pond has done a phenomenal job at creating a complete and incredible experience. In particular, I love how they have really highlighted the food and wine combo, employing an in-house chef to really focus on pairing wine and food. They also have a pretty active olive mill, making their own olive oils and vinegars. I also get along really well with their winemaker, Muiris Griffin who I think is doing a killer job.
Now I'm sure there are incredibly fascinating accountants and financial planners; and I imagine there must be captivating engineers and lawyers. But I think there's something unique about food and wine that attracts a certain type of person who loves life, and loves sharing it with others. In fact, while some of the wineries in Napa were started by farmers or people already in the wine business, there are so many who got their start in finance or technology or selling cars. That's really why I love wine.
It's not about the beverage itself, it's about the people who make it and the passion they put into it.
What about you? Who have you met in the wine industry (or through wine or food) that you admire?