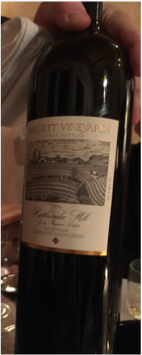 Another of my generous friends out in Napa: Fiona and Hal Barnett. I've had the pleasure of knowing them for several years and every time we get together they have some new surprise in store. Last year it was their last bottle of 2004 Merlot that they opened. This year it was a two of the last six magnums of 1996 Rattlesnake Hill Cabernet.

Barnett Vineyards is located way up on Spring Mountain in Napa. The view from there is absolutely breathtaking and their vineyards are pretty spectacular, though admittedly a bit frightening to think about harvesting. The Rattlesnake Hill vineyard is the uppermost part of their property (at 2,050 feet) and consistently produces the deepest, most intoxicating grapes that they really demand to be bottled separately.

The production on this wine is always tiny, however, so it's not an easy bottle to come by (nor inexpensive when you do) but it's worth it. It was ever so kind of the Barnetts to share it with us and great to get some time with their magnanimous current winemaker, David Tate. David is a pretty awesome dude that makes incredible wine, and I think he's pretty under-appreciated. He's worked at numerous places around the world and was at Ridge before coming to Barnett in 2007. Now he makes Barnett and has started his own project called simply Tate. Those wines are incredible as well. But back to the bottle at hand.

Because of its intensity, the Rattlesnake Hill cabernet really takes a while to come around. And so twenty years is a good amount of time to let this bad boy settle down. Even twenty years in, this wine still had loads of life. It was drinking beautifully and was a great pairing for lamb. The fruit was still vibrant and the tannins had softened so that it was silky and elegant. Definitely worth the wait.