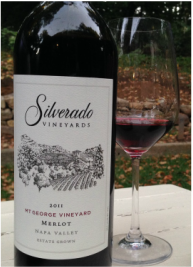 I've been drinking
Silverado Vineyards
wine for five or six years now. But I remember the first time I tried their Merlot. Typically an undervalued grape in my opinion, Merlot has a bad rap, largely due to a preponderance of bad Merlot in the '80s and '90s, and perhaps more famously, the movie
Sideways.
(If you haven't seen it, I recommend it as a good wine movie, but back to the point).
Silverado Vineyards was started in 1981 by Diane and Ron Miller and is still a family run business. I first had their Merlot in 2012 and was stunned. This wine comes from the Mt. George vineyard in Coombsville, a sub-appellation of Napa Valley. It's an incredibly powerful wine with loads of flavor and weight. This vineyard is so good, actually, that the winery just started producing a single vineyard Cabernet Sauvignon from it called GEO. I love the herbaceous quality that this wine also has. It mixes nicely with the dark, plummy fruit characteristics.
My only complaint is that it's gone up $10 a bottle since I first started drinking it. C'est la vie!