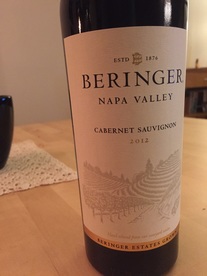 I've never spent much time with Beringer wine. The winery, started by two German immigrant brothers in the 19th century, holds the title of being the oldest continuously operating winery in Napa Valley (continuous because it continued to make wine through Prohibition). It was family run until 1971 when it was sold to Nestlé--who apparently doesn't just make chocolate--who sold it again. It is now owned by Treasury Wine Estates, one of the top ten wine companies in the world.
I always hope that historic Napa properties will exemplify what makes Napa great. However, in this category I thought Beringer's Napa Valley Cabernet missed the marked. While still a perfectly fine wine, there was nothing incredibly special or expressive about it. And at the $35 retail price, it was a bit too pricey for the quality. I think there's still a lot of good Napa Cabernet out there for under $40, though they are harder and harder to come by, this just wasn't one of them.
However, I will close by saying that there is some redemption for Beringer. Some of the wines they make are outstanding. Not too long ago I had the pleasure of trying a
1997 Private Reserve Cabernet
from them that was outstanding. And I still remember a Treasury Wine Estates lunch I attended where they served the Beringer Nightingale dessert wine, a bottle I still look for on wine store shelves. Just last year, the Beringer family returned in some twist of fate when Mark Beringer took over the role of winemaker for the estate. Perhaps this will also return the wines to their former glory.