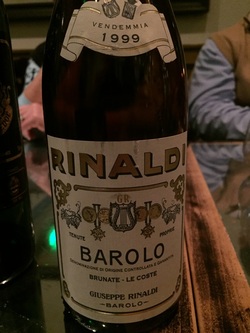 While out in Napa, our last dinner as a group is always a bit of a low key affair, meaning, it's pretty laid back, and there's no great agenda. For this dinner, there's often great wine being opened, and often anything but Napa as we get pretty inundated with Napa wine every other moment of the week. One of the bottles opened at this dinner was the Giuseppe Rinaldi Barolo Brunate Le Coste. Even better than that, it was a 1999.

I love Barolo. I REALLY love old Barolo so this was pretty cool.

And it was drinking exactly as it should: beautiful flavors of dried cherry and tobacco with subtleties of mushroom. I love drinking old wine because the flavors are often so much more complex. But you have to be prepared for there to be a lightness as well. In its youth, Barolo is usually bold and tannic (though still elegant). With age, however, it really lightens up and is a much more feminine and graceful wine. Really cool stuff.