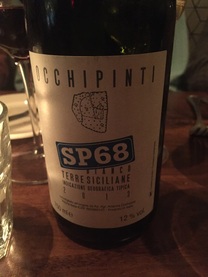 I was out to dinner one night recently at a great Italian place known for their pasta. In perusing the wine list, there was no shortage of unique looking wines that were sure to be interesting. There was a heavy emphasis on Italian wines, as well as French with surprisingly little domestic selections.
But I was okay with that.
After a week of drinking lots of big red wines, I was in the mood for something a bit lighter and more refreshing, so I narrowed in on the white selections. I saw wines from expected regions like Piedmont and Alto Adige alongside some more obscure areas like South Tyrol and Lazio.
I ended up narrowing it down to two choices, and at the prompting of a friend at the table with me, we settled on this bottle: the SP68 Sicilian Bianco from Occhipinti. Occhipinti (fun to say isn't it?) is the eponymous wine label of Arianna Occhipinti, a young winemaker from Sicily that focusing on produces natural wines that respect the land and the grapes and the history of the place. The SP68 wines, there's a red and a white, are named for a road that goes through her hometown of Vittoria, Sicily. They are blends and are a great introduction into the wines she makes. She makes a few other reds from either Frappato or Nero d'Avola (or a blend of the two) but this is the only white.
The bianco is a blend of two grapes, Moscato di Alessandria, and Albanello, a grape I'd never heard of. It had quite a heady aroma and reminded me a lot of gewurztraminer. In fact, it was so aromatic that I was expecting the wine to taste a little sweet. Instead, it was full of acidity with bright flavors of citrus and even a little note of olive or sea salt. By far one of the coolest white wines I've had in a long time and completely unexpected.