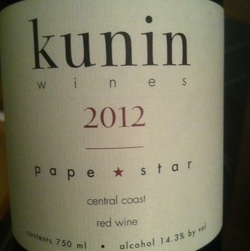 I'd never heard of Kunin wines before Tuesday. But I was looking to try some new Santa Barbara wines and this one crossed my path. The name caught my attention right off the bat: "pape star," a clever allusion to Châteauneuf-du-Pâpe, so I knew this would be an interesting taste.
Kunin Wines was started in 1998 by Seth Kunin who chose to focus on Rhône and Loire Valley varietals. That means he works primarily with Grenache, Syrah, Viognier, Sauvignon Blanc and Chenin Blanc. Sixteen years later Kunin makes eleven different wines and only a total of 5,000 cases. With such small production, it's much easier to pay attention to detail.
The 2012 Pape Star is lighter than a traditional style of Châteauneuf. It has a great peppery quality that I enjoy. Not particularly robust, but velvety. Most Châteauneuf are made in a very age-worthy style; that is to say, most Châteauneuf is best drunk after 3-5 years. This gives the flavors time to integrate and balance out. Pape Star, however, is much more approachable and drinks well now. In addition to the pepper notes, there are some nice strawberry flavors and just a hint of chocolate as well which is quite pleasant. Don't believe me? The best way to find out is to try for yourself. Find the closest bottle at
wine-searcher.com
. And you can find out more about Kunin at their
website
and by following them on
twitter
.