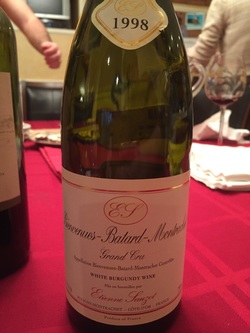 I came across this bottle as part of a cellar relocation that I was managing. It fell into the category of "not worth moving" but instead of pouring it down the drain, I figured it was worth trying before we got to that point. So I brought it to a wine friend's house one night to see if it was worth drinking.

Sadly, it was not. While it clearly had been good at one point, it had since turned into a candied, butterscotch and salt water concoction. I bet this had tasted of lovely golden apples at one point, but not there was only a hint of cooked apples. It wasn't all bad as I was happy to drink one glass of it before pouring the rest away.

Nevertheless, I am never ashamed of trying unusual bottles and rarely back down from any bottle of wine. My friend remarked that he always knows I'm going to have something interesting to drink. And that's something. I'd rather take a chance with an interesting bottle than have my expectations met with something predictable. In that way, I guess you could say I'd prefer my wine to be like a box of chocolates, so to speak.