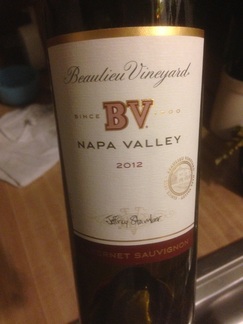 This was the last of the three classic Napa Cabernets that I tried side-by-side. While I don't drink of lot of BV wines, I remember having dinner a few years ago with winemaker Jeffrey Stambor (his signature is even on the label). At that dinner, I remember being surprised out how good the wines are. I was particularly impressed with the $25 Rutherford Cabernet. But, since I was trying to compare apples to apples, this was the straight up Napa Valley appellation.

And again, I was pretty impressed. For a $20 or so wine, this had a good amount of fruit, but was still reminiscent, if ever so slightly, of the classic Rutherford flavors that I would expect from this property located right smack dab in the middle (from north to south) of Napa Valley. Founded just at the turn of the century by Frenchman George de Latour--for which the winery's top of the line wine is named--this winery has operated continuously since then. It became an iconic wine really beginning in the 1938 when one of Napa Valley's first rockstar winemakers, André Tchelistcheff (say that 10 times fast), took the helm.. Tchelistcheff, a Russian-born French-educated winemaker, became known as "The Maestro" because of his ability to craft and sculpt Napa Valley wines into masterpieces. He was the first to introduce techniques that today are taken for granted in Napa--cold soak fermentation, aging in French oak barrels, malolactic fermentation, and more. He was making wine in the Napa Valley for 20 years before Robert Mondavi started his winery.

Tcheslistcheff was succeeded in 1982 by Joel Aiken who now makes his own wine--darn good wine at that. Aiken handed the reigns over to Stambor. So really, only four winemakers in the winery's 116 year history. The winery, too, has changed hands over time and was sold in 1969 to Heublein which eventually became Diageo through a variety of mergers and acquisitions who owned it until just recently. Diageo sold off all of its US wine properties over the course of this past year. BV is now owned by Treasury Wine Estates (the same company who owns Beringer Vineyards up the road).