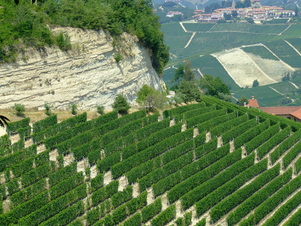 Arriving at
Elio Grasso
was pretty spectacular. The road down from Monforte d'Alba overlooked a good part of the eastern end of the Barolo region. We also drove past a great cliff face that really showed what the soil of this area is like. Mostly, it is composed of a chalky clay material that maintains a good amount of water. Which is good, since they get little rainfall during the summer months.
We met up with Roberto who is the winery's general manager to take our tour. Gianluca Grasso, the current winemaker was planning on joining us during the tasting part. The first room we walked through was the aging room for their single vineyard Casa Maté and Chiniera Barolos. These two wines are aged solely in large casks, the more traditional aging method. Since Elio Grasso is a small producer, roughly 7,500 cases total, this room was quite small with only ten or so casks. We moved into a small barrel room that is part of the original winery. The other wines that Grasso makes, dolcetto, barbera, Langhe nebbiolo, and Chardonnay, do see some oak in small oak barrique. The next room was quite impressive. Grasso finished an addition to their winery in 2007 that is a long semi-circular tunnel that is entirely underground. This keeps a constant cool and humid temperature great for aging. It is split into two parts, one for barrel aging and one for bottle aging.
The final part of the tour was outside in the vineyard. It was our first time really getting a chance to see the vines and soil up close since many producers don't own the vineyards surrounding their winery. The grapes were just on the verge of veraison but the most striking thing was the soil and how dry it was. In fact, I thought the ground we were standing on was limestone but Roberto corrected me saying that it was in fact clay. It was so white and crumbly, it was hard to tell the difference.
We ended by tasting through five different wines with Gianluca Grasso who was clear about his philosophy: wine is made in the vineyard. Even the decision to make their riserva, Runcot, is made while the grapes are still growing. What's more, Gianluca told us that he even worked with another local grower to buy a section of forest nearby in order to keep it from being developed so that he could preserve the local ecosystem. To me, that's real commitment. Tasting notes below.
2011 Educato Chardonnay
I've had this wine before and it is one of my favorite Italian whites. It is fresh and lively with no malolactic fermentation. Round and well-balanced.
2011 Dolcetto
Great everyday wine. Clearly meant for drinking young with bright red fruit and cinnamon qualities.
2010 Barbera
I was impressed with how well-balanced this wine was with extremely well-integrated tannins. It had some really nice hints of vanilla and baking spice in addition to cherry ,raspberry and plum which I found quite unique.
2009 Nebbiolo
This was a bit young with some harsh tannins. However, I learned something really interesting about this wine. Since they only make their riserva Runcot in exceptional years, they declassify it in most years to make this wine.
2006 Runcot
This wine was obviously young and a bit closed, but surprisingly the fruit did show itself. There were notes of baked fruit, vanilla, and cinnamon. But this wine will definitely continue to age and evolve and I think another five to seven years will make this wine magnificent. I'm excited to taste it again then.