Thirteen Generations.
I find studying family history to be fascinating. My family has always been a bit into it; my dad had done some research and so did his cousins. In fact, growing up we had big family reunions every five years or so, and smaller family reunions even more frequently than that. And then it sort of passed on to my brother and me. We've traced one line back roughly to when we immigrated to America from Wales or England, though there's some confusion as to who that first person in our family to come to America was. That's eight generations we've more or less figured out. But in all that there's been a lot of movement and a lot of different careers. There's no constant throughout all those years.
Jean Frédéric, on the other hand, is the
13th generation of Hugel
winemakers in Alsace.
This family has been doing the same thing for 377 years, since 1639. "Talk about job security," I said to one friend in talking about the Hugel family. But I quickly realized there's bound to be a lot of pressure as well. After all, you don't want to be the generation that breaks that record. After meeting with Jean Frédéric on our first day of winery visits in Alsace, I wasn't worried about that. He seemed to thoroughly enjoy the winemaking business and knew his family history well. In fact, he shared the secret to running a family business like theirs: "You have to argue. You need to argue a lot, but only in business."
Tradition.
The jovial and knowledgeable Jean Frédéric took us on a fabulous tour of their facilities, which despite being tucked into a tiny town of 2,000 inhabitants--but that sees over 2 million visitors every year--was quite expansive, covering at least 4 stories, both above and below ground. They do have fancy new horizontal pneumatic presses, but from there, everything is gravity fed down to fermentation tanks or barrels. Most of these barrels, casks really, are 100
years old and 70 hl (roughly 1,850 gallons). One of them, however, nicknamed Ste. Catherine, dates from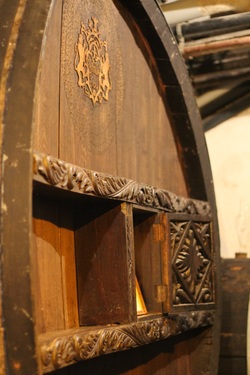 1715 and as such has earned a place in the Guinness Book of World Records for being the oldest wine
cask in production. Amidst troubles with the light switches (of which there were far too many to count), Jean Frédéric assured me that despite all the tradition in their winery, they're not ignoring advances that have been made in winemaking technology. "We're not making wine from 50 years ago," he said. "We're making wine the way we think people from 50 years ago would make wine if they had the techniques we have now."
​
Looking Forward.
After our walk, we sat down in Hugel's beautiful private tasting room and tasted through what seemed like most of the wine they make, a very gracious gesture. We started with the "Classics": Gentil (a traditional Alsatian blend of their best grapes, and coincidentally Hugel's only varietally blended wine), Riesling, Muscat, Pinot Gris, and then moved up the ladder. While Pinot Gris and Muscat are great everyday wines--and I'd include Pinot Blanc in there--Alsace is really known for Riesling and Gewurztraminer, and so this is what Hugel makes best. In all we tasted seven Rieslings and three Gewurztraminers, along with a smattering of other things. These ranged from their Classic series and Estate wines, to the Jubliee reserve wines and the brand new Schoelhammer bottling. We even tasted a few late harvest wines that are a seductive balance between acidity and sweetness. However, the star of the show was the first release of their single lot wine Schoelhammer.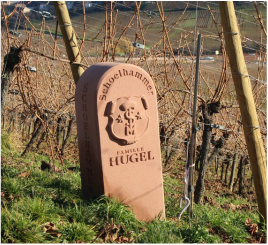 All the grapes for this wine come from a specific section of the Schoenenbourg vineyard above the the village of Riquewihr.
​There's even a special marker that signifies where that section is located. Over time--remember the Hugels have a couple hundred years experience--this particular part of the vineyard has consistently produced the best grapes. So eventually the thought occurred, why not make a wine just from these grapes? The flavors on this wine were incredible and unending but the most spectacular thing about this wine is that it was still so young. The vintage we were drinking was the 2007 but this wine will easily last another 20-30 years. In fact, most people don't think about aging Riesling, or any white wine, but this wine made it clear to me that Riesling could age, and maybe even should.

After two or three hours of talking and drinking, we left Jean Frédéric, after buying more than a few bottles, and headed down the road to Colmar for dinner. We found a great restaurant, Winstub Flory and made reservations at Jean Frédéric's recommendation, Wistub Brenner, for the next night. After all, nothing goes with Alsatian wine quite like Alsatian food.