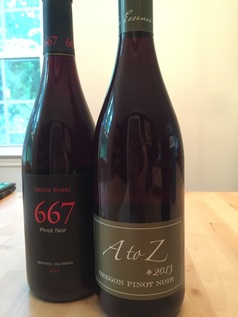 A couple months ago, my wife and I were invited to a wine dinner with some people we didn't know. I had met one of them, and thus the connection, but hadn't even talked to him for a couple years. Despite being in the wine business, I've never met regularly with any group of people to discuss wine or drink it on a regular basis. My wife and I drink wine together and I go to lots of industry tastings. And sure we have some friends who drink wine and we love getting together with them and sharing good bottles, but those are always more social, and I'm glad for that.

This group, on the other hand, was started really just because we all love wine; and want to learn more about it. I know some people who are in wine dinner groups like this, and they all tend to be older, read wealthier, and focused on outdoing each other when it comes to wine. If one guy brings a $100 bottle, another brings one rated 100 points. Not that I wouldn't love to sit in on one of those dinners every once and a while. Believe me, I'd love to drink some of that wine. But on a normal basis, it's not my scene.

Tonight will be only our fourth time getting together, but so far, it's been a good thing. We're small--there's only six of us so far--and we're all involved in the wine business, or have been, in one way, shape, or form. Each month we get together there's a theme we all pick. The first time was cabernet sauvignon. The second was riesling. Then we drank rosé. And tonight, tonight we'll be drinking pinot noir.

Pinot noir is one of those great, yet terrifying grapes. If done right, it can be magical, but if done wrong, it can be insipid. And it's really hard to do it right. And, of course, whenever you talk about pinot noir these days, you have to mention the movie Sideways, which, when released in 2004 somehow catapulted pinot noir to being one of the top selling wines out there. In amongst all of Paul Giamatti and Thomas Haden Church's slew of profanities, mostly surrounding merlot, pinot noir was exalted as the king of all grapes, the crème de la crème. And it is a pretty amazing grape. It is certainly one of the most widely-planted grape varieties in the world, and, according to my Oxford Companion to Wine, is "prone both to mutate and degenerate." That means it can control the weather or shoot laser beams out of its eyes, I think. No that can't be right.

What it really means is that pinot noir has over time given birth, so to speak, to a wide variety of other grapes, most notably pinot blanc, pinot gris/grigio, and pinot meunier. In addition, something you'll hear a lot of winemakers talking about when it comes to pinot noir is the specific type of clone. A clone, to borrow from my Oxford Companion again, is "a single vine or a population of vines all derived by vegetative propagation from cuttings or buds from a single 'mother vine' by deliberate clonal selection." Basically, a clone is a variation of pinot noir, that while being 100% pinot noir, exhibits specific characteristics only found in that clone. Why I am boring you with all this detail? Well, because this is one of the cool things about pinot noir! Winemakers who make pinot noir obsess over these clones to try and find the right one that expresses their vineyard the best or that produces the flavors they're looking for. Some do better in warm climates, some cool climates. Some like rocky soils, some not so much. Some like a lot of sun, some prefer less.

So hopefully I'll learn a little more tonight, and then I can tell you about it. And if you've had some good pinot noir or learned something interesting about it recently, I'd love to hear about it.