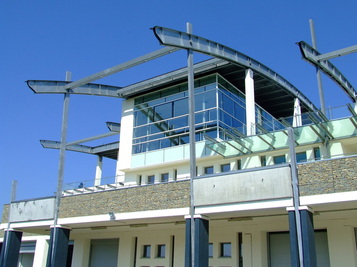 Domenico Clerico
is located just outside the town of Monforte d'Alba. Their winery was practically in the process of putting the finishing touches on, being completed just the year before in 2011. Its modernity was clear. The structure mimics the rolling hillsides of the area complete with a grass roof. It's constructed primarily of concrete, glass and steel giving it a bit of a sterile feel, but also one of power.
Clerico is certainly a powerful winery. The total production is right around 10 000 cases which is pretty large for Piedmont. We met up with Luciano who is the current winemaker. Luciano is fairly young and clearly talented. It shows not only in the Clerico wines, but he has already started his own project as well called Raineri. We tasted through all these wines while there, too many to recount, but some of the tastings notes are below. We then took a tour.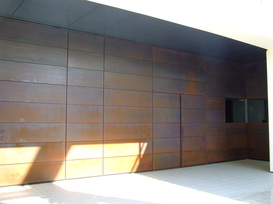 The facility as I mentioned was pretty much brand new. The 2012 harvest would be their second in their new facility, so they are still breaking it in. Luciano is kind enough to show us around, despite being in a scooter accident earlier that week. He's even kinder still to send us off with a few parting bottles as a thank you for visiting. He's not only a talented winemaker, but a really good guy and I hope we stay in touch.

2011 Capismee Nebbiolo
The idea behind the name of this wine is "understand me". At Clerico, they see one of their jobs is to educate the consumer on nebbiolo as a grape. The purpose of this wine is to do just that. It is stainless steel fermented and aged so that the true character of the grape can be best expressed. It's not a wine for aging but is an excellent example of what nebbiolo should taste like.

2008 Barolo Pajana
This wine is rich with velvety tannins, bitter chocolate, cherries, mocha, cigar box; basically, this wine has a lot going on. It's layer after layer of flavor and aroma with great intensity. Very enjoyable to drink.

2008 Barolo Ciabot Mentin
A bit more powerful than the Pajana, this wine would benefit from more aging. This had more of a candied cherry flavor with smoke and leather undertones and gritty tannins. Impressive length and intensity, but not yet ready. This wine will last for many years.

2007 Barolo Aeroplanservaj
The Aeroplanservaj label is a new project Domenico Clerico is working on. The label is based on a nickname Domenico's father gave him "wild airplane" in the Piemontese dialect. The vineyard is in the Serralunga district of Piedmont and the wine is a more modern expression of what is possible there. The wine we tasted was soft and elegant with chocolate, black licorice and cinnamon flavors. The bottle labels also have an interesting origin. There were six people from the winery all involved in picking the final label. However, each of them liked a different label, so instead of choosing one, they decided to keep all six. Each case comes with six bottles, each presenting one of the unique labels.