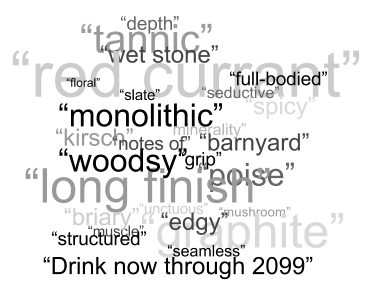 One of the most common hurdles that people encounter when it comes to learning about wine is the trouble of language. When first learning about a new subject, the only way for us to communicate with each other is if we understand what the other person is saying. Much like other subjects, we have to first learn the terminology associated with wine before we can talk about it. But many wine professionals haven't made this an easy thing to accomplish for those interested in learning more about wine. There are many words and phrases used to describe wine, many of which are unfamiliar to those eager to learn more.
So how can you weed through all the jargon and figure out a way to talk about wine in a way that we all understand? The key for me is to start by using language we already know. When first learning about wine and trying to talk about it, use words and descriptions that are familiar to you. You're not going to be able to remember what you drink or recall what you tasted if the way you describe it is meaningless to you. Put simply, this means to use words and phrases that you are comfortable with. If you're a musician use music terms, if you're a contractor use building terms and if you're a teacher use education terms (I once had someone describe a wine to me as having lots of "low tones'). This is an important step in any learning process. You have to start with what you know. For example, I once described a wine as tasting like a carnival--I've never worked at a carnival, but stay with me here. Now, "carnival" isn't a universally recognized wine descriptor; but when I tasted the wine, it tasted a bit like cotton candy and a bit like candy apple and so, carnival.
Once you're comfortable here, you begin to translate the words you're familiar with into more universal concepts. After all, "it reminds me of walking into my grandma's house on Thanksgiving" isn't very helpful to someone who's never been to your grandma's house. It's easiest to begin with broad terms like red fruit or toasty or earthy. But over time the language becomes more comfortable and, hopefully, your wine palate evolves and so the descriptors you use change. Thus, a wine can go from reminding you of a campfire to being described as smoky and finally most specifically as having a sweet smoke profile.
As with other learning experiences, you'll only get better if you practice. I have found that this particular skill is best developed through comparison, as well. Comparison both between wines, and perhaps more importantly with other tasters. This is where it can get fun. Find a couple different wines of a similar style (same grape would be best) and then invite some friends over and just talk about the wines. You could even spend some time writing down what you see and smell and taste, and what your friends see and smell and taste. The more senses you get involved, the better you'll remember what you learn.
I'm particularly in favor of the way Daniel James, son of the owners of Domaine Saint-Hillaire describes the relationship between language and wine

Here are two other articles I think are excellent to check out:

Jamie Goode
Decanter