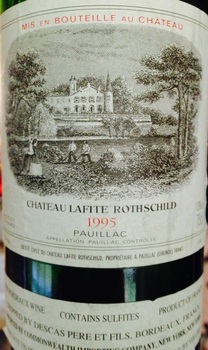 Last month I celebrated my 30th birthday. Many people may shy away from getting older, but most of the time I don't mind. Sure things change: my body may hurt a little more, I get tired quicker, and there are no more Saturday morning cartoons worth watching. But there are good things too: marrying my beautiful wife, traveling around the world, and of course, sharing wine with friends.
My wife did a pretty amazing job putting together a party for me this year.
A lot of good friends came along with family, and there was amazing food and good drinks. She even made two giant crossword puzzles themed around my life. In general, I don't have a lot of friends who appreciate wine the way I do, so we didn't drink a lot of wine at this party. But one friend was generous enough to bring a bottle of
1995 Château Lafite-Rothschild
that he had received as a gift. It's rare that I get the opportunity to taste a
First Growth Bordeaux
, much less drink one. Even less a twenty year old one. Not only are they hard to come by, but they are incredibly expensive. This year's Château Lafite, the 2014, is selling for $425, but just a couple vintages ago, the 2010 went for as much as double that.
Traditionally, this is what all winemakers aspired to.
When wineries in California were reinventing themselves in the 1960s and '70s, they looked to Bordeaux for an example.
Some of them even
partnered with famous Bordeaux châteaux
. Perhaps it's the rebellious nature in me--that inevitably will fade in my old age--or perhaps it's just because I can't imagine ever being able to afford these wines, but I tend to stay away from First Growth Bordeaux. As they hold a great and important place in the history and evolution of fine wine, I am thankful to get the opportunity to taste them when it arises, though I am perhaps not as enamored as some other oenophiles. However, I won't deny good wine when I taste it. Being a student of history, I can't deny that the circumstances surrounding the
1855 Classification
that gave Château Lafite-Rothschild, along with four others (sort of), its status were a bit opportune at best. That being said, the quality certainly backs it up.
Being an aged man now, I think it appropriate that I drink aged wine. For being such an old wine, it was remarkably fresh (kind of like yours truly). There was still plenty of fruit and character, but it was complemented by some of the flavors I love in older wine: tobacco, flint, graphite, and even a hint of black licorice. Not all wine ages well, at least as well as this wine, or as I have, but if you find one that does age well, it can be a beautiful thing. And it was made even better by the fact that I was able to share it with such great friends.
So
thanks to those who came
to celebrate my 30th with me. And thanks to my wife for bringing the whole thing together. It was a fabulous day, coupled with some fabulous wine. When you get as old as I am, you realize not much matters except good family and good friends.
And great wine.